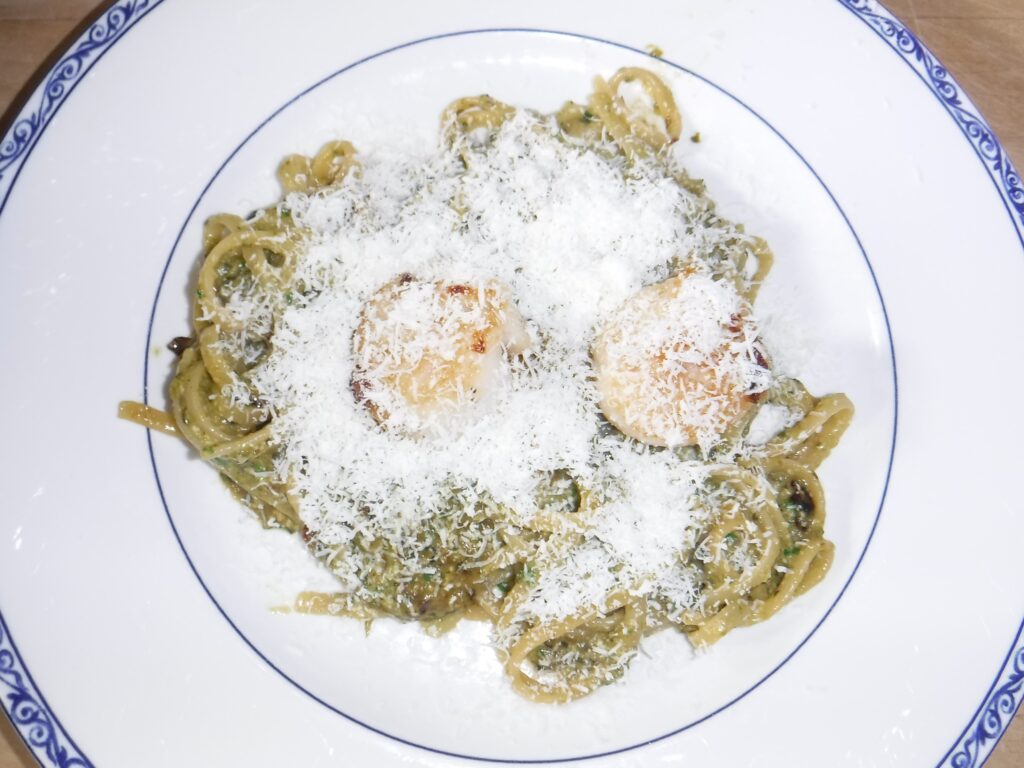 This is the first dish we made from Esteban Castillo's cookbook, Chicano Eats. It makes a flavorful but not spicy sauce to go with pasta. We made it with scallops, but it would also be good with shrimp, fish or chicken. The amount of sauce is intended for 1 lb. of pasta, and is expected to be 4-6 servings. We used a pro rata portion of the sauce for 4 oz. of pasta for 2 persons. How much pasta to make depends on the appetite of the eaters.
For the Sauce
20 oz. poblano chiles (4-5 large)
6 cloves garlic, unpeeled
1/3 cup plus 1 Tbs. extra virgin olive oil, divided
1/3 cup sour cream
2/3 cup queso fresco
¼ cup cilantro leaves
1 tsp. Diamond Crystal kosher salt, plus more to taste
¼ tsp. freshly ground black pepper
For the Scallops
12 oz. dry pack scallops, surfaces dry
1 Tbs. olive oil
Kosher salt and pepper
16 oz. linguine or tagliatelle
Freshly ground black pepper
Grated cojita or other hard cheese
To make the sauce, heat the oven to 400 degrees. Half the poblanos, and remove the seeds and stems. Put them and the garlic cloves on a cookie sheet. Roast for 20 minutes. Then put the poblanos in a paper or plastic bag to steam off their skins. When cool enough to handle, remove the skins from the poblanos. Also remove the skins from the roasted garlic.
Put the poblanos and garlic with the rest of the sauce ingredients into the bowl of a food processor and process until smooth. Taste for seasoning.
Cook the pasta per the package instructions.
In a large skillet, heat the tablespoon of olive oil. Pat dry the scallops and season with salt and pepper. Cook over medium high heat until well browned, and then remove to a bowl.
Drain the cooked pasta well, and add it to the skillet. Add the sauce. Over low heat, stir and mix until the sauce and the pasta are thoroughly mixed and heated through. If a frond was formed from sautéing the scallops, make sure that it is dissolved into the sauce since it will have a great flavor.
Put the pasta and sauce on plates, cover with the sautéed scallops, and sprinkle with cojita cheese to taste.