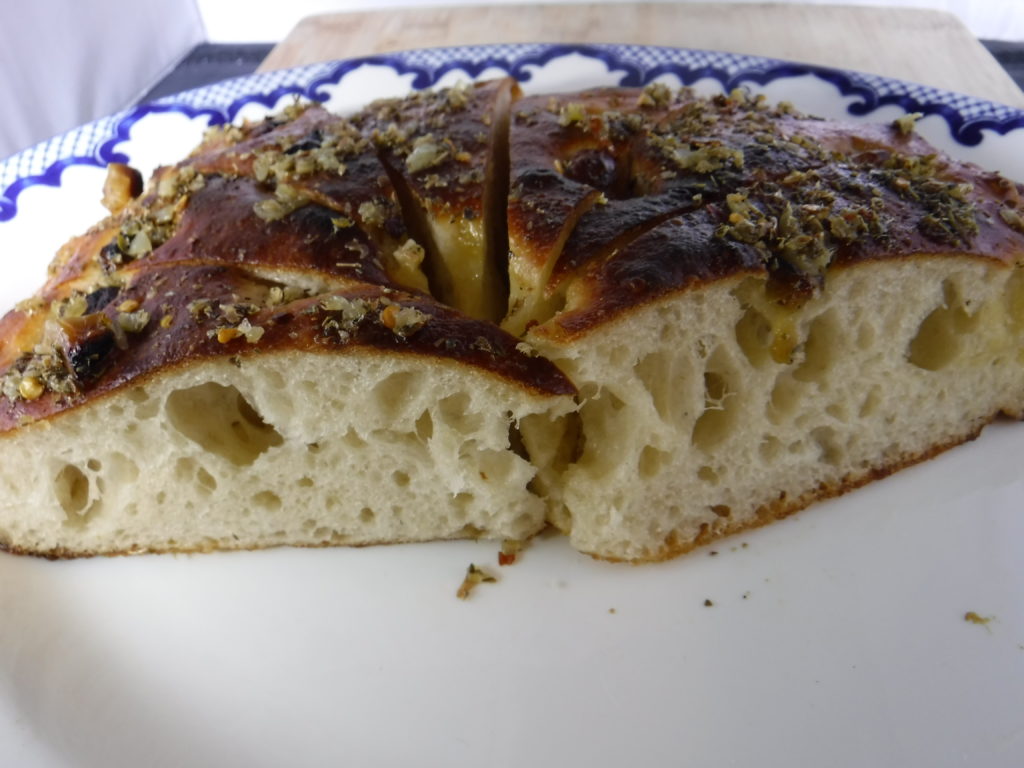 This chewy and flavorful loaf is what all those mediocre supermarket and restaurant focaccias are aspiring to be. It takes about 24 hours of elapsed time, but little work time. This recipe is adapted from SeriousEats.com.
Because I have some 1:1 sourdough starter in the refrigerator, I used 6 oz. of it in the recipe (i.e. 3 oz. of flour and 3 oz. of water) to supply some of the flour and water called for in the recipe
1.5 heads garlic, divided
5 Tbs. olive oil, divided
500 g. (17.5 oz.) bread flour
1 Tbs. kosher salt
1 tsp. yeast
325 g. (11.5 oz.) water
2 Tbs. unsalted butter
2 tsp. dried oregano
½ tsp. crushed red pepper flakes
Cut the top of a head of garlic. Put it on a piece of aluminum foil, and spoon 1 Tbs. of olive oil over the cut edge and sprinkle with some salt. Fold the aluminum foil over the head of garlic to make a package. Roast for about an hour in a 350 degree oven. Cool, and separate the roasted garlic cloves from the peels.
Combine the flour, salt, yeast, and water in a large bowl. Mix and knead until well mixed and smooth. Cover the bowl tightly with plastic wrap and let rest on the countertop for at least 8 hours and up to 24 hours. The dough will expand a lot.
Add 3 Tbs. of olive oil to a 12 inch cast iron skillet.  Move it around to grease all of the bottom and the sides.  Add the dough to the skillet, and turn it to cover all the surfaces with the oil.  Pat it until it roughly fills the bottom of the skillet.  Allow to rise on the counter top for 2 hours.
After about 1 hour, preheat the oven to 550 degrees.
When the dough has finished rising in the cast iron skillet, press it to fill all of the bottom of the skillet. Lift up the dough at the edges to ensure that there are no large air bubbles on the bottom. Cut the roasted garlic cloves in half, and scatter the pieces over the top of the dough. Press each of the pieces into the dough. Bake for 16-24 minutes until the top is golden brown and the bottom is also crisp.
While the focaccia is baking, make a garlic butter topping.  In a small saucepan, combine the remaining 1 Tbs. of olive oil with the butter, 4 cloves of garlic (finely chopped), the oregano, and the red pepper flakes.  Cook for about a minute over medium-low heat until fragrant.  Pour the garlic butter into a small bowl and season to taste.
Put a wire rack on a cookie sheet, and using a thin spatula move the focaccia to the wire rack.  Spoon the garlic butter over the top of the focaccia.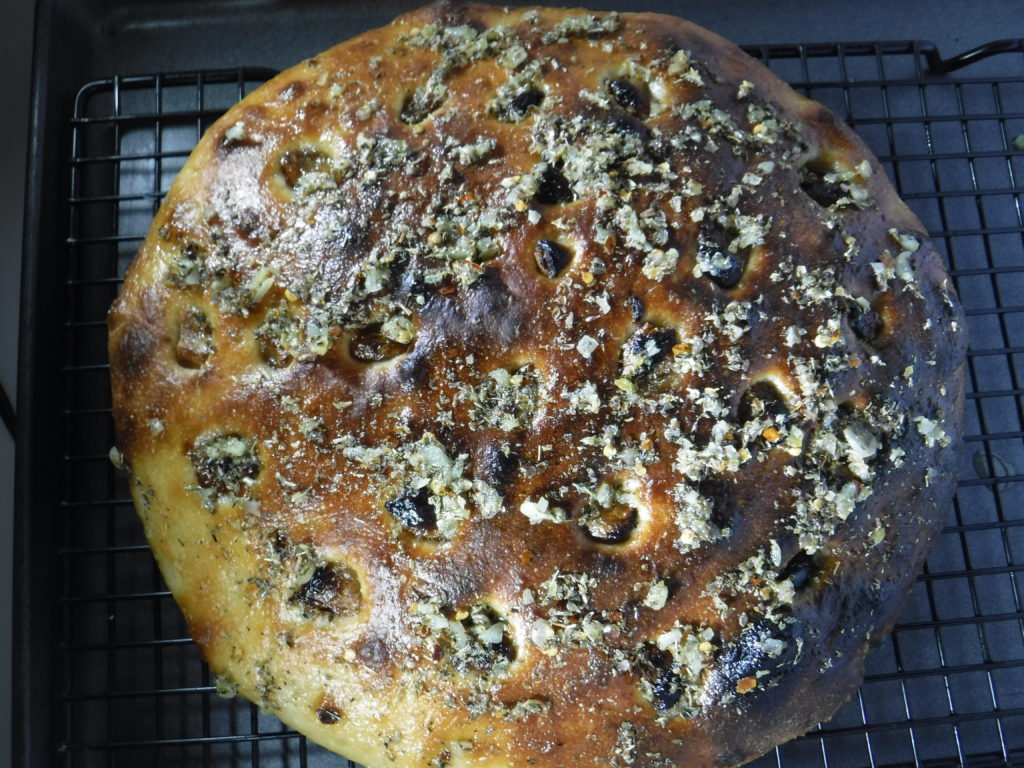 Allow to cool slightly and then cut and serve.