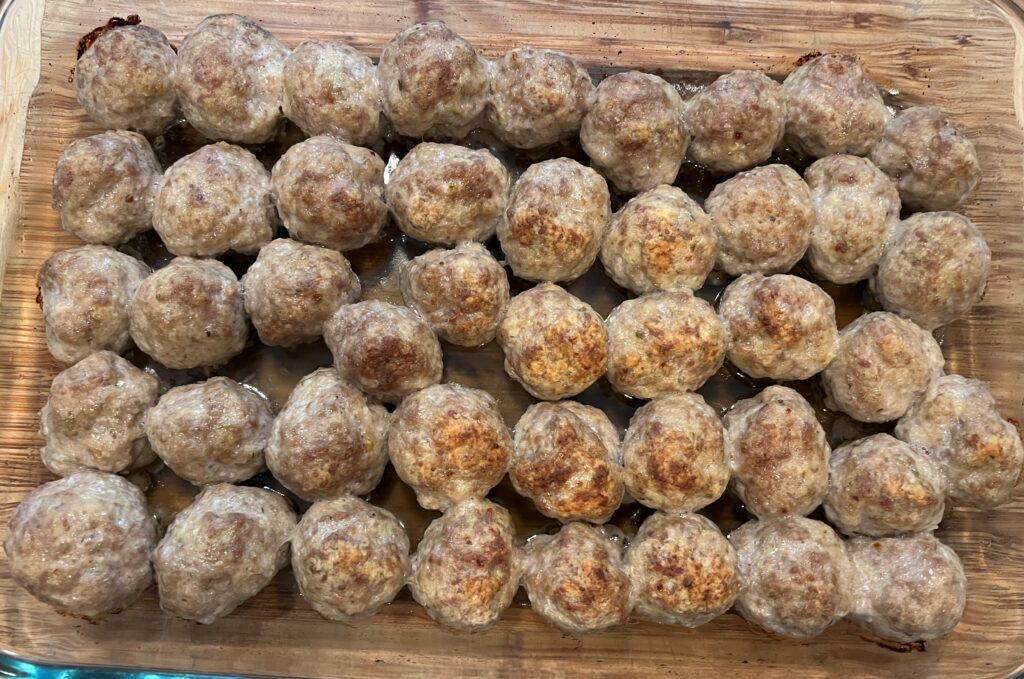 This is an adaptation of the best-selling meatball sold by The Meatball Shop, and is a winner in spaghetti and meatballs. (We are serving them with Oven Roasted Tomato Sauce ) An advantage of this recipe is that the meatballs are roasted, rather than fried, which is a much less messy process.
2 Tbs. olive oil
2 lbs. 80/20 ground beef
1 cup whole milk ricotta cheese
2 large eggs
½ cup bread crumbs
¼ cup chopped parsley
1 tsp. dried oregano
2 tsp. salt
¼ tsp. red pepper flakes
½ tsp. ground fennel
Preheat the oven to 450 degrees.
In a medium bowl, mix together the ricotta, eggs, bread crumbs, parsley, oregano, salt, red pepper flakes, and ground fennel. In a larger bowl, mix the ricotta, etc. mixture with the ground beef until well mixed.
Using your hands, coat a 9×13 inch baking pan with the olive oil. Using a 1-1/2 inch scoop, portion the meat and form it into packed meatballs. Put the meatballs in the pan in a tight vertical and horizontal array, so that they are forming a grid in which the meatballs touch each other. Roast for 20 minutes, until the meatballs reach an internal temperature of 165 degrees.
Finish the meatballs by simmering them in the red sauce for 20 minutes before serving.