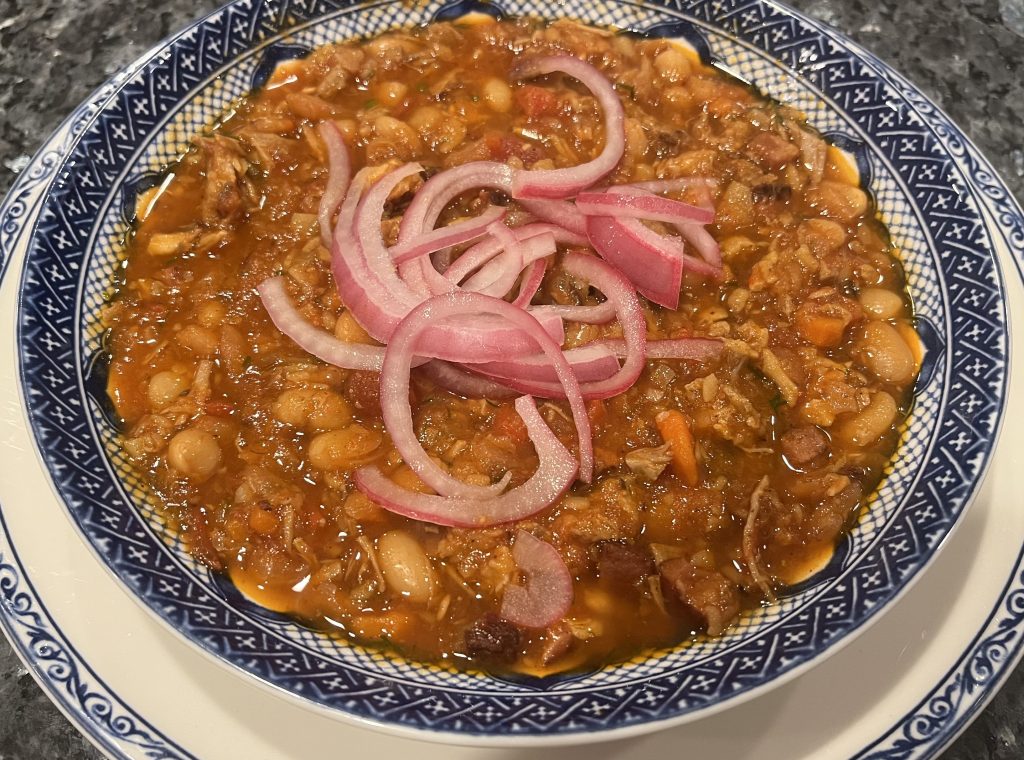 Since we recently went to Romania, I have kept my eyes open for Romanian recipes to try. I spotted one on 177MilkStreet.com which I tried with success. The unusual parts of this soup are that it is flavored with caraway seeds and vinegar, and garnished with Pickled Red Onions. This will Take about 2 hours (plus the presoaking of the beans) and will serve 6-8 people
The original recipe called for a smoked ham hock and baby back ribs. Since I could not find a smoked ham hock at the supermarket, I substituted when I could find and what was economical, which was 8 oz. of ham bits and about 2 pounds of bone-in country ribs. I was surprised to not find caraway seeds at either Publix or Kroger, so I ordered them online from Amazon.
1 lb. dried great northern beans
2 Tbs. neutral oil
2.5 lbs. mixed fresh and smoked pork (for example, smoked ham and country ribs)
2 medium yellow onions, peeled and diced
2 medium celery stalks, diced
2 medium carrots, peeled and diced
1 medium red bell pepper, seeded and diced
28-oz. can whole tomatoes, crushed by hand
2 tsp. caraway seeds
1 qt. low sodium chicken broth
3 Tbs. fresh dill, chopped
¼ cup white wine vinegar
Pickled Red Onions for garnish
Soak the beans overnight in salted water. Drain.
In a large pot, heat the oil. Brown the fresh and salted pork. Remove to a bowl. Saute the onions, celery, carrots, and red bell pepper until the onions are translucent. Add back the pork and any accumulated juices. Add the tomatoes, caraway seeds, chicken broth, and soaked beans. Thoroughly scrape the brown bits from the bottom of the pot. Bring to a boil and reduce to a simmer. Cook covered until the pork and beans are both tender. Remove the pork from the pot and chop into small pieces. Return the chopped pork to the pot. Add the dill and vinegar and stir well. Taste for seasoning. Serve with the Pickled Red Onions and a crusty bread.