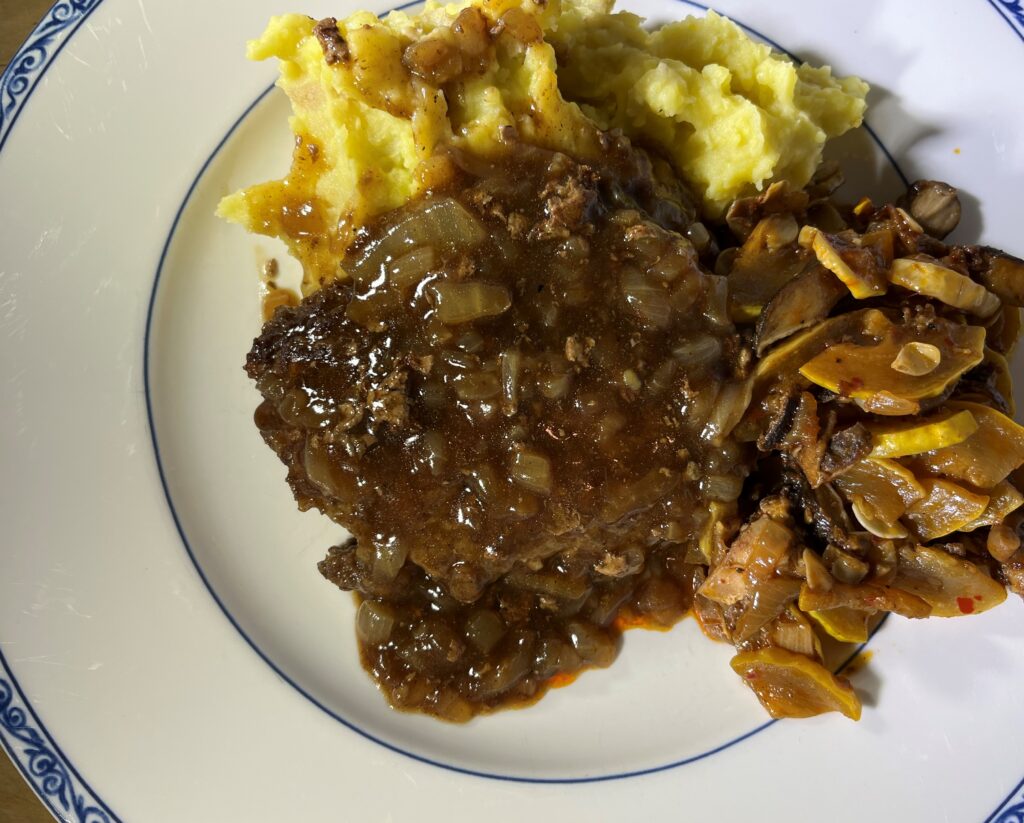 Salisbury Steak is an American comfort food classic. This version is adapted from a recipe in the Washington Post. An unusual thing about this recipe is using smashed potato chips rather than bread crumbs as a binder in the meat patties. This makes 4 servings and takes about 30 minutes to prepare. It was served in the photo with mashed potatoes and sautéed summer squash.
For the patties
1 lb. 85/15 ground beef
2 large eggs
2 oz. potato chips, smashed into small pieces
2 tsp. ground mustard
2 tsp. garlic powder
¼ tsp. salt
¼ freshly ground black pepper
1 Tbs. butter
1 Tbs. olive oil
For the gravy
1 small onion, chopped
2 cups low-sodium beef broth
1 Tbs. cornstarch
1 tsp. Worcestershire sauce
Salt and pepper to taste
In a large bowl mix together the eggs, potato chips, ground mustard, garlic powder, salt and pepper. Then mix in the ground beef and form into 4 equal pappies.
Heat the butter and oil in a large skillet over medium heat. Cook the patties about 5 minutes on each side until nicely browned. Put the cooked patties on a plate and cover them to keep warm. Pour off any excess oil from the skillet. Add the chopped onions to the skillet and cook until translucent. In a small bowl, mix together the beef broth and cornstarch and then add the mixture and the Worcestershire sauce to the skillet. Cook, stirring occasionally, until the sauce thickens. Check for seasoning. Add back the patties, turning them to coat them with the sauce. Cook for another 2-3 minutes to ensure that the patties are hot, and then serve with mashed potatoes.