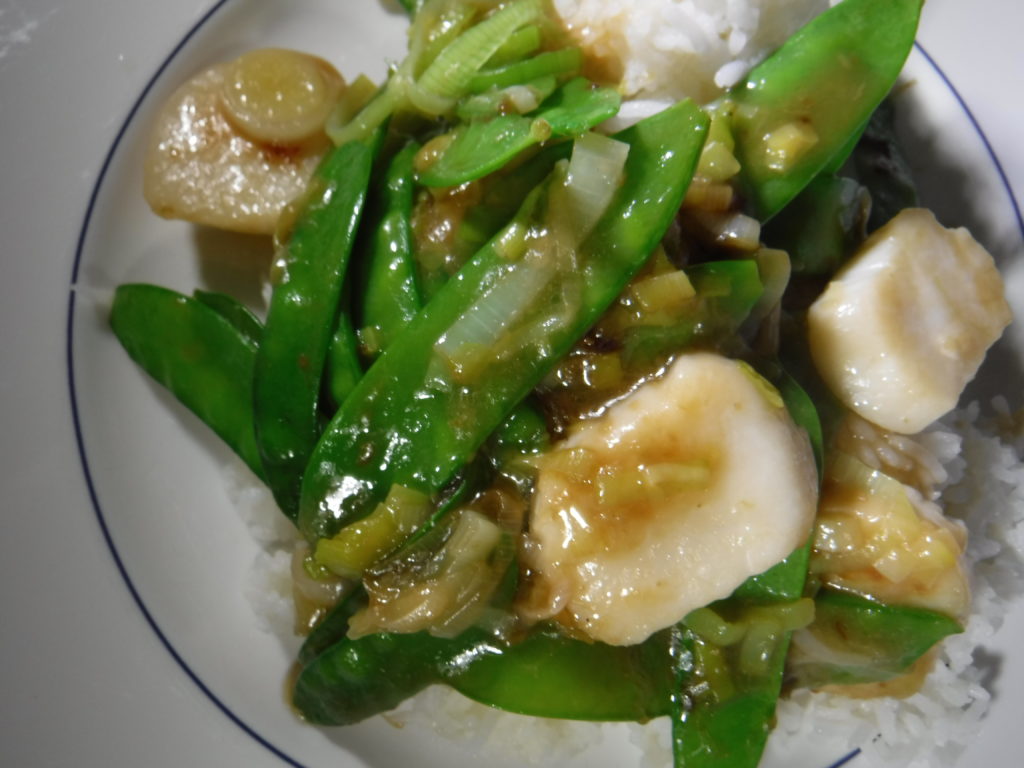 Carol recently bought some snow peas and I looked around for a suitable stir fry recipe, which I found in one of the first cook books we ever bought, Charmaine Solomon's The Complete Asian Cookbook.  This is an example of Cantonese cooking, so it is delicate and relies on quality ingredients properly prepared.  This is also a good example of where "mise en place" is essential.  The actual cooking takes only about 5 minutes, so all the ingredients need to be measured, prepared, and lined up before cooking starts.  This makes two main course servings with rice.
Note – If leeks are unavailable, 10 green onions can replace them.
8 oz. dry pack scallops
2 leeks, white part only
4 oz. snow peas
2 Tbs. cooking oil
½ tsp. freshly grated ginger
2 tsp. cornstarch
¼ cup water
1 tsp. soy sauce
Salt to taste
Cut the scallops in half if they are large. Pat dry so that they will fry, not steam
Cut off the white part of the leaks. Cut them in half the long way and then cut each half into thin slices. Rinse thoroughly and then pat dry with paper towels.
Remove the strings from the snow peas
Mix together in a small bowl the cornstarch, water, and soy sauce.
Heat the oil in a large skillet or wok. When hot, add the leeks and ginger and stir fry for about a minute. Push the leeks and ginger to the side of the skillet and add the scallops. Fry the scallops on both sides with the objective of getting some nice browning on the flat surfaces. After a couple of minutes, add the snow peas and stir to mix. Cook for about a minute and then add the liquids from the small bowl. Cook, stirring frequently until the cornstarch has thickened the sauce. Sprinkle with salt and serve immediately over rice. Do not overcook the scallops or snow peas.