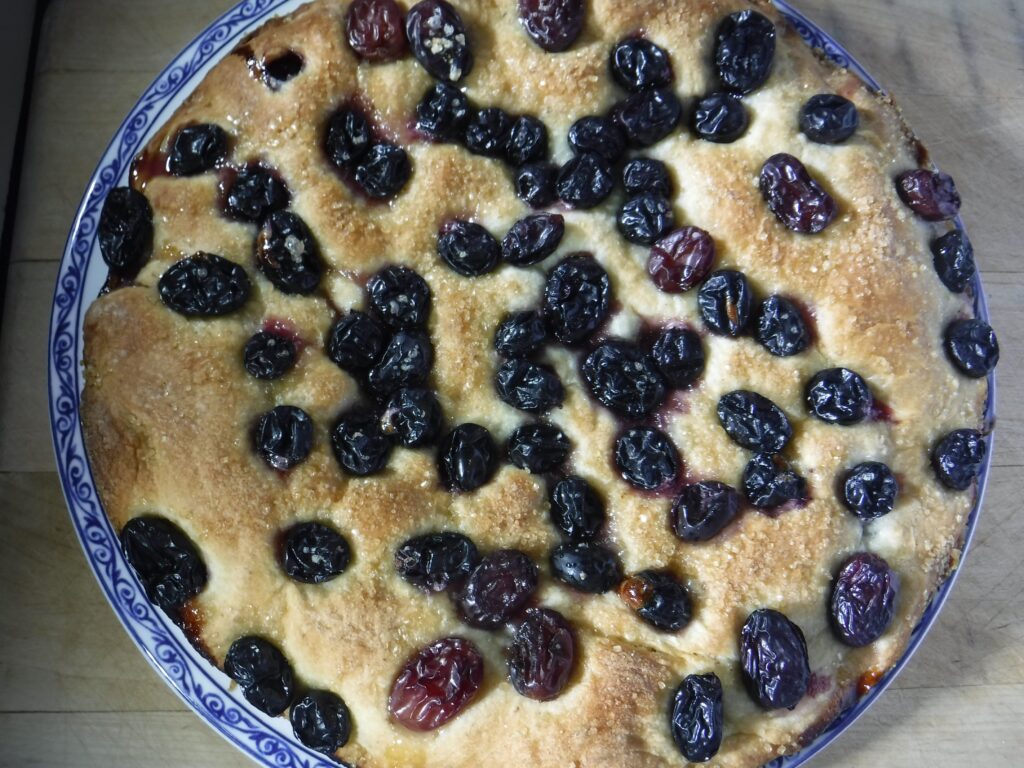 This is a lightly sweet member of the focaccia family which is flavored by grapes and anise liqueur. I have made this a couple of times over the years, this time as a way of using up some older grapes on the counter which had shriveled and did not have a good texture to eat fresh. I used 2 cups of these shriveled grapes, and I think more would have been even better. This version is an adaptation of a recipe in Carol Field's book Focaccia: Simple Breads from the Italian Oven. I used a baking steel in the oven. This will serve 6-8 persons.
Sponge
1 tsp. active dry yeast
2 Tbs. sugar
½ cup lukewarm water
75 g. (9 Tbs.) all-purpose flour
Dough
1.5 Tbs. Sambuca or other anise flavored liqueur
1.5 Tbs. lukewarm water
175 g. (1.25 cups) all-purpose flour
½ tsp. salt
1 tsp. aniseeds, crushed in a mortar
¼ cup unsalted butter at room temperature
Topping
2 cups washed grapes
3 Tbs. turbinado sugar
Sambuca or other anise flavored liqueur
Start making the sponge by missing together the yeast, sugar, and lukewarm water. Allow to sit on the counter for about 10 minutes until frothy. Mix in the flour in two batches. Cover the bowl and allow to ferment on the counter until bubbling and doubled, 30-60 minutes.
When the sponge is ready, mix in the Sambuca (or other anise liqueur) and water, and then mix in the flour, salt, and aniseeds. Add the butter in 1 Tbs. increments. Using a dough hook and a mixer, mix the dough until smooth, elastic, and a bit sticky. Oil the dough lightly and put it in a covered doubling container for the first rise, about 30 minutes. Divide the dough into two balls, cover and have it rise for another hour. After half an hour, heat the oven to 425 degrees.
Grease a 10 inch spring form pan. Take one of the balls of dough, flatten it out, and stretch it to cover the pan. Put on top of the dough half of the grapes, half of the sugar, and a sprinkling of Sambuca. Stretch out the second piece of dough and put it over the dough and grapes in the pan. Pinch the edge of the first and second layers of dough together. Top with the remaining grapes, sugar, and another sprinkling of Sambuca. Press the grapes lightly into the dough.
Bake for 15 minutes. Reduce the heat to 375 and bake for another 15 minutes or so until golden. Remove from the oven. Cool on a rack for a few minutes and then remove from the pan to fully cool.