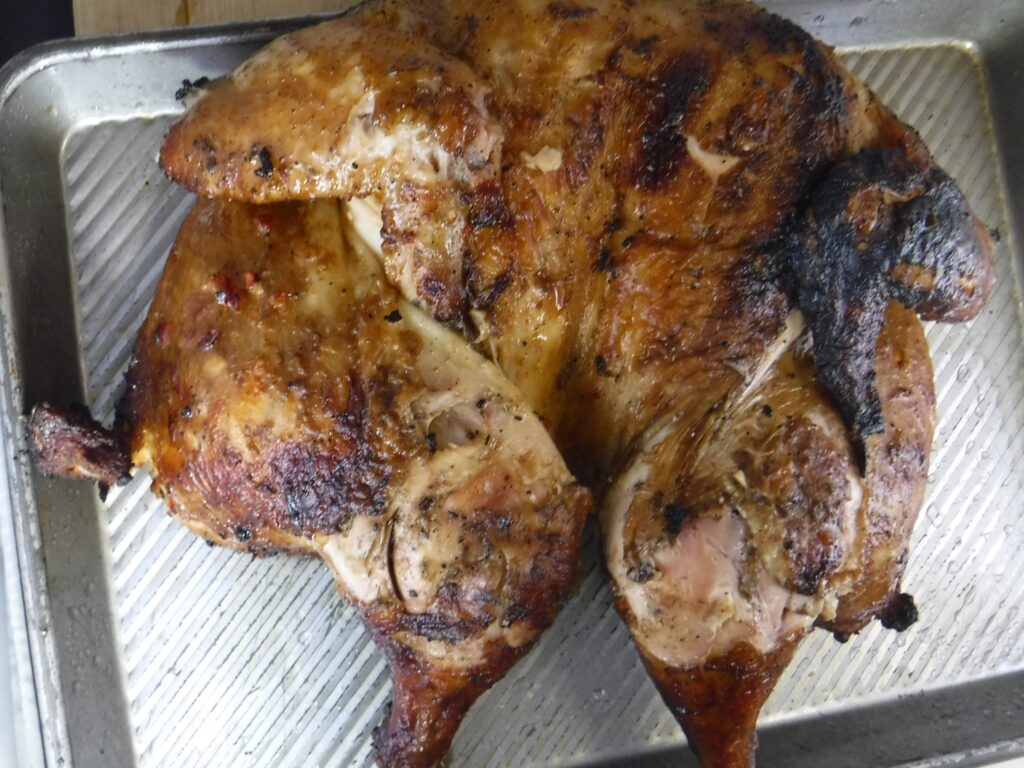 Flat chicken (or Flattie) is the South African term for a spatchcocked chicken grilled on a braai (barbeque). I cooked this on a Big Green Egg including some soaked mesquite chunks, so the chicken was nicely smoked. I picked the exact wrong time to do this, since a thunderstorm started just after I started the coals, and continued with varying degrees of intensity until after I was done, and the Big Green Egg is on my exposed upper deck. I got pretty wet.
The secrets to this are to have moderate temperature (I targeted 350 degrees), to flip the chicken frequently so that it cooks evenly like on a rotisserie, and to use a meat thermometer to tell when it is done (155 degrees in the breast and 165 degrees in the thighs – spatchcocking the chicken helps this happen). Despite the rain, the chicken came out perfectly cooked and juicy.
I marinated the chicken in a peri-peri sauce for 4 hours, but the flavor was not very intense. Maybe next time I will marinate the chicken longer or will increase the spice level (such as substituting half cayenne for the paprika). I was adapting a recipe in Jan Braai's book Braai: The South African Barbecue Book.
The marinade I used consisted of:
¼ cup olive oil
¼ cup wine vinegar
¼ cup lemon juice
¼ cup water
2 cloves garlic, finely chopped
2 tsp. paprika
1 tsp. salt
1 jalapeno, finely chopped
Update 5/29/21
I used a slightly different marinade from Braai:  The South African Barbecue Book to cook two flat chickens for a dinner party.  The original version used softened butter, but I did not find that it spread well, so I have replaced it below with olive oil.  This is enough for 1 chicken:
2 Tbs. olive oil
2 Tbs. chopped garlic
2 Tbs. lemon juice
2 Tbs. chopped fresh herbs (parsley, sage, rosemary, thyme, basil, etc.)
1 tsp. salt
1 tsp. pepper
Rub it all over and marinade overnight in the refrigerator. Because my Big Green Egg is on the top deck exposed to rain, I cooked these chickens with my equipment under the deck: 2 hours at 225 degrees with alder chips in the electric box smoker, finishing them on the gas barbeque grill, turning them frequently until I reached ~150 in the breast.