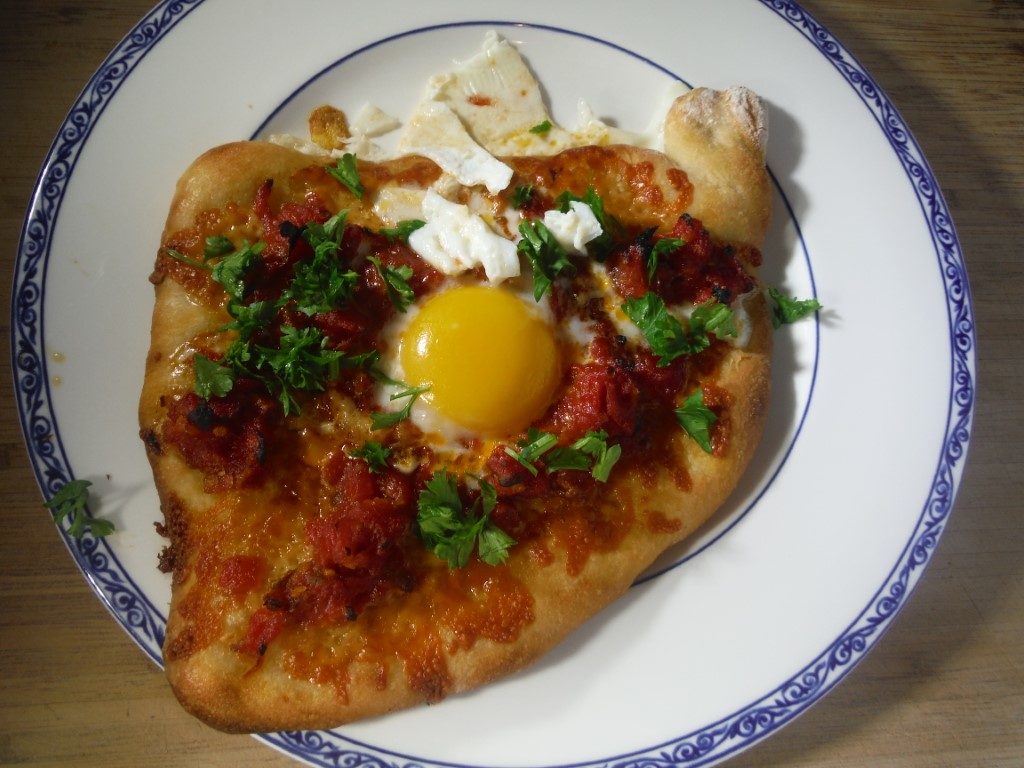 This was a good lunch, but is definitely something which needs more refining.  The original idea was an article I saw which cited a recipe from Uri Scheft's book Baking Breads: A New World of Israeli Baking.  Then I noticed a similar idea in Michael Solomonov's book Zahav: A World of Israeli Cooking.  Combining these ideas, I made a kind of breakfast pizza with my standard pizza dough, a layer of grated cheddar cheese, a layer of Matbucha , and finally a raw egg, cooked until the white was set and the yolk was still runny.  The egg turned out to be hard to add since the cookie sheets I was using warped in the hot oven, and the egg slid off.  I think the next time, the better idea is to make an entire cookie sheet of dough and then to add the eggs to the four quadrants of the pan, so that there is less opportunity for the egg to run off.
The original cheese in Michael Solomonov's version was Kashkaval, which is sometimes called the cheddar of the Balkans, so I used some cheddar I had on hand.
Pizza dough for 4 (Pizza for Many or for One )
2 cups grated cheddar
2 cups Matbucha
4 eggs
½ cup chopped Italian parsley
Preheat the oven to 475 degrees.
Spread out the pizza dough.  Sprinkle first with the grated cheddar and then with the Matbucha.  Bake for 15 minutes.  Open the oven and slide a raw egg on top of the dough.  Cook for one to two minutes until the white is cooked and the yolk is still runny.  Remove from the oven, sprinkle with the parsley, and serve.