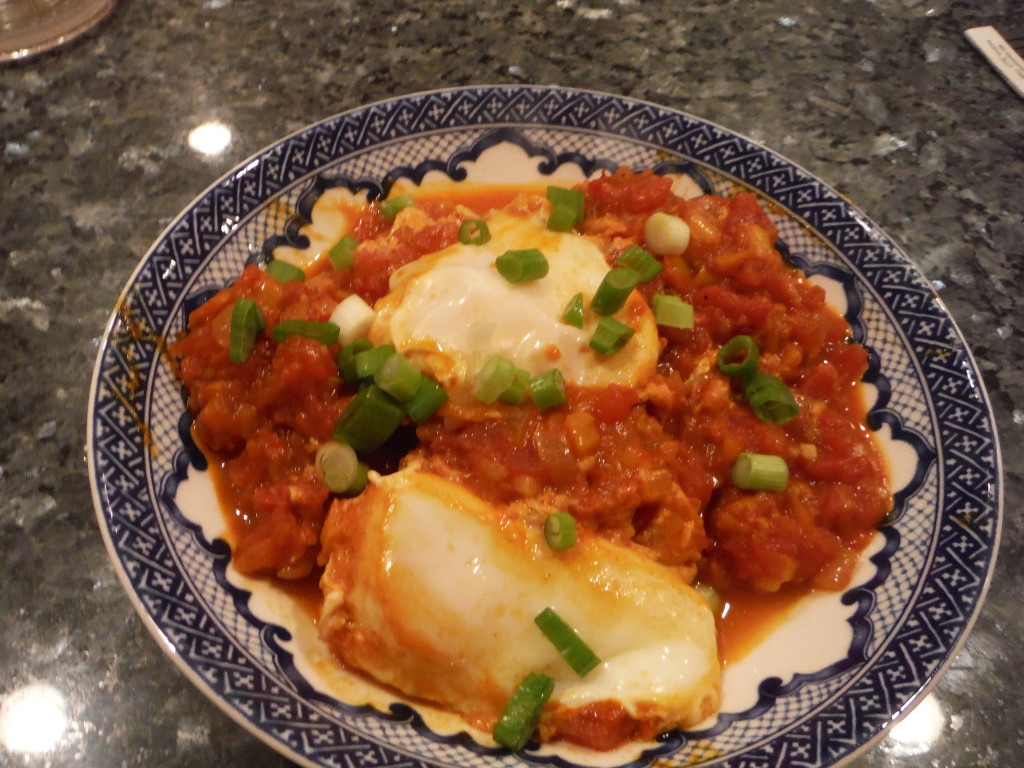 Shakshuka (or Shakshouka) is a popular Israeli brunch or breakfast dish which seems to be everywhere these days, including in Yotam Ottolenghi's very popular Jerusalem: A Cookbook, which my sister-in-law Patricia gave me for my birthday. It looked like a good dish for Fridays in Lent, so I made it last night. This is one of those dishes which is more an approach than a strict recipe. This is how I made 2 very generous servings last night with what I had on hand:
4 eggs
2 Tbs. olive oil
2 – 15 oz cans petite diced tomatoes
½ large onion, diced
6 cloves garlic, chopped
1 red pepper, diced
1 Tbs. harissa
1 tsp. ground cumin
1 tsp. paprika
½ cup cubed feta cheese
3 green onions, sliced for garnish
Salt and pepper to taste
Hot sauce to taste
Good bread
Pick a pan the right size for this dish, which will end up with eggs poaching in a tomato-vegetable sauce. I used a wok.
Heat the oil and saute the onion, garlic, and red pepper until softened. Add the cumin and fry briefly. Then add the tomatoes, harissa, and paprika. Bring to a boil and then reduce to a simmer until a good thick sauce has been created, about 15 minutes. Taste for seasoning and spiciness.
Crack the eggs one by one into a small bowl, create an indentation in the sauce, and slide the egg into the indentation. Put a lid on the pan and cook over medium heat until the white is set but the yolk is still a little runny.
Put the feta cubes in the bottom of two shallow bowls, add the shakshuka, and garnish with green onions. Serve with good bread. Last night it was freshly baked baguettes.