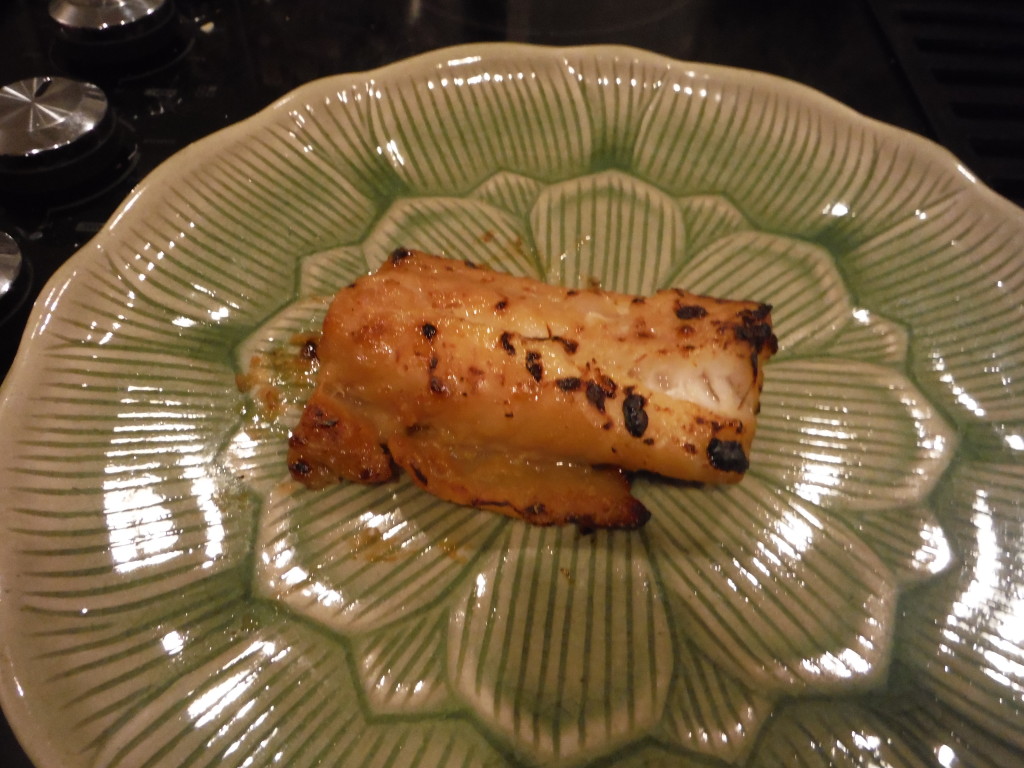 When I lived in Japan, I ate a lot of excellent grilled fish, but there was one type of grilled fish which I thought was exceptionally good. That turned out to be fish which had been marinated in miso and mirin. The salt in the miso and the sugar in the mirin lightly cured the fish. The sugar in the marinade also meant that the fish browned very nicely.
1 lb cod or other firm fleshed fish filet
¼ cup miso
1-1/2 Tbs sake
1-1/2 Tbs mirin
2 Tbs sugar
Vegetable oil for brushing
(Note – For Japanese cooking, I usually buy a small container of sake, such as Ozeki One Cup, and store the open container in the refrigerator between uses.)
Mix together the miso, sake, mirin, and sugar and pour into a one gallon ziplock baggie. Add the fish filet, expel all the air, roll up the bag and zip it closed. Marinate the fish for 24-48 hours, periodically turning it over to ensure that the fish is evenly in the marinade. The salt and sugar in the marinade will lightly cure the fish.
When ready to cook, quickly rinse off the marinade and dry the fish with a paper towel. If grilling, brush the fish with oil, and grill it about 3 minutes on a side until done. (Alternately, broil the fish in the oven. If so, line the pan with aluminum foil since otherwise clean up is very difficult due to the sugar in the marinade.)
This also works well with shrimp.  Since I did not have enough cod, I marinated some shrimp as well, and skewered the shrimp and broiled them.  The results are shown below.