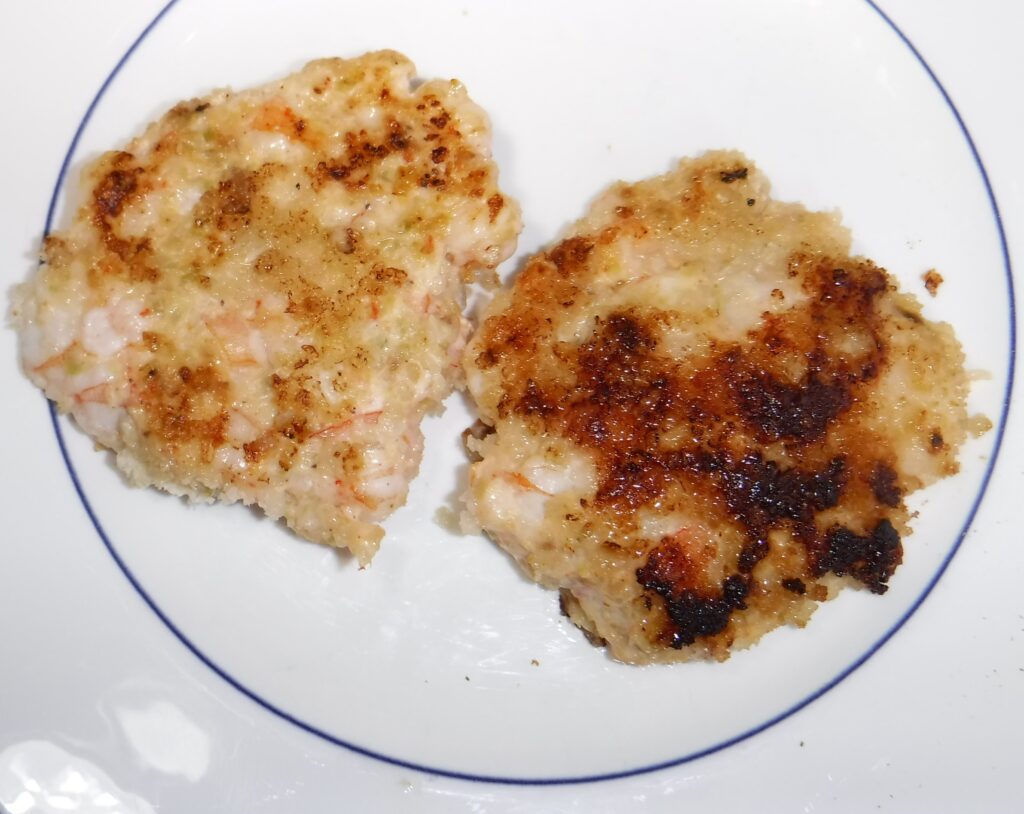 A few weeks ago I spotted a recipe on America's Test Kitchen for "Best Crab Cakes". The key idea of this recipe was to use a shrimp mousse (ground shrimp and cream) to bind together the crab cakes instead of bread crumbs, mayonnaise or eggs. I thought this worked very well, but Carol objected to the undertone of shrimp in her crab cakes. That gave me the brainstorm to replace the crab fully with shrimp, which turned out very well (and at current prices is much cheaper than crab cakes. The quantities below are for 2 servings. The total time required is about an hour, including 30 minutes chilling time.
10 oz. peeled and deveined shrimp, divided
1 celery rib, chopped
¼ cup chopped onion
1 garlic clove, chopped
¼ tsp. salt
1/8 tsp. freshly ground black pepper
1 Tbs. butter
2 Tbs. heavy cream
1 tsp. Dijon mustard
¼ tsp. SriRacha or other hot sauce
½ tsp. lemon juice
¼ tsp. Old Bay Seasoning
~1/4 cup Panko
2 Tbs. vegetable oil
Divide the shrimp into 2 piles, one of 6 oz. and one of 4 oz. Coarsely chop both piles.
Put the celery, onion, and garlic into the bowl of a food processor and finely chop.
Heat the butter in a large skillet and cook the chopped vegetables and the salt and pepper over medium heat until the vegetables are softened and any moisture has evaporated, about 4-6 minutes. Put the cooked vegetables in a medium bowl and allow to cool.
In the bowl of the food processor, pulse the 4 oz. of shrimp until finely ground.  Add the cream and pulse a few more times until smooth.  Add the shrimp and cream mixture to the medium bowl.  Add the mustard, hot sauce, lemon juice, and Old Bay seasoning to the medium bowl.  Add the reserved 6 oz. of chopped shrimp and mix well.  Line a quarter baking sheet with wax paper of baking parchment.  Divide the shrimp mixture into 4 pieces, and form each piece into a disk about ½ inch thick.  Cover the sheet with plastic wrap and chill in the refrigerator for 30 minutes.
After the shrimp mixture has chilled sprinkle panko on the tops of the shrimp cakes and press it into the cakes. Carefully flip the cakes and do the same to the other side.
In a large skillet, heat 1 Tbs. of the oil over medium heat. Add the shrimp cakes and cook on one side for about 4 minutes without moving them. Add the other Tbs. of oil and carefully flip the shrimp cakes. Cook on the other side for 4-6 minutes without moving the cakes until cooked through.
Serve hot plain, or with lemon juice, cocktail sauce, or tartar sauce.