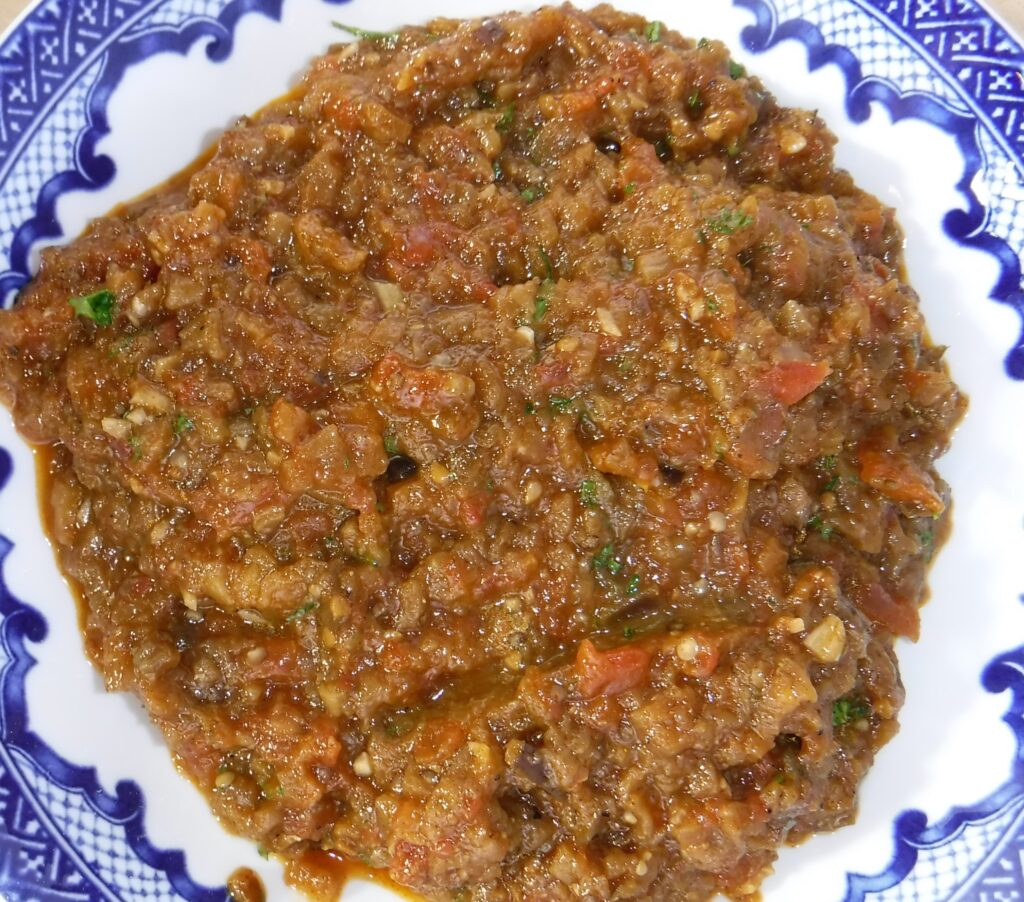 Our recent tour of Morocco introduced us to Moroccan "salads", which are vegetable dishes typically served at room temperature rather than salads as we usually think of them in the US. Bowls of various Moroccan salads are frequently served at the beginning of meals. We learned how to make this very popular salad at a cooking class at La Maison Arabe in Marrakesh. This quantity will serve 6-8 people in a set with other Moroccan salads
1 medium Italian eggplant
1 large tomato
2 garlic cloves, crushed
1 Tbs. finely chopped fresh parsley
2 Tbs. olive oil
½ tsp. salt
¼ tsp. black pepper
¼ tsp. chili powder (optional)
1 heaping tsp. paprika
1 tsp. cumin
1 Tbs. lemon juice or vinegar
Partially peel the eggplant leaving some purple stripes. Cut into a small dice.
Stem and peel the tomato and finely chop it.
Put the olive oil in a skillet with the eggplant and salt. Cover and cook over low heat for 10 minutes, stirring occasionally. Remove the lid and mash the eggplant with a spoon or potato masher. Add the chopped tomato, parsley and spices to the skillet and mix well. Cook covered over medium heat for 20-30 minutes, occasionally stirring and mashing the contents. Cook until all the vegetables are fully soft and have a smooth texture.
Stir in the vinegar or lemon juice, uncover, and cook for another 5-7 minutes until the liquid is reduced. Check the seasoning adding additional salt and/or lemon juice or vinegar as needed.
Serve at room temperature with crusty bread. At La Maison Arabe, we ate this for lunch with Taktuka (Moroccan tomato and pepper salad), chicken tagine with green olives and preserved lemons, and Khobz (the 8-inch circular loaves which are the daily bread of Morocco).