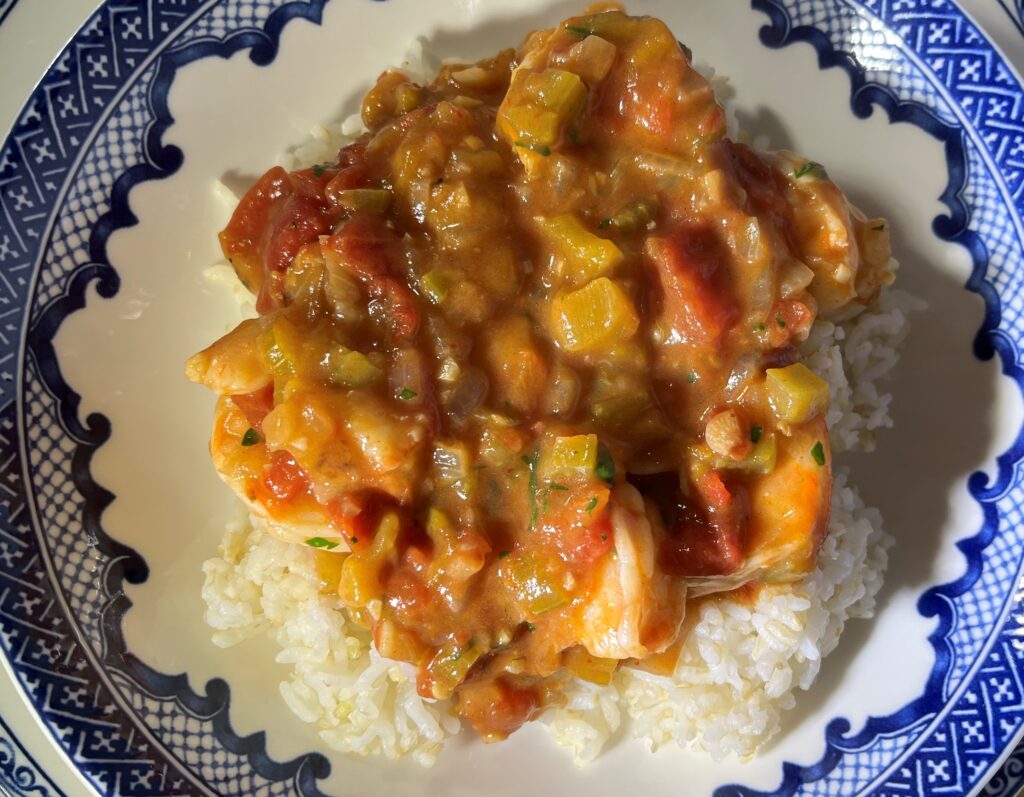 Shrimp creole is a classic New Orleans dish, particularly popular during Lent. We made this batch for Ash Wednesday dinner for 2 people, based on a recipe in Cooking up a Storm: Recipes Lost and Found from The Times-Picayune of New Orleans. This is a good weekday dish since it is done in less than an hour.
2 Tbs. butter
1 Tbs. flour
¾ cup chopped onions
½ cup chopped green bell pepper
3/8 cup chopped celery
2 cloves garlic, chopped
1 bay leaf
1 cup canned diced tomatoes
½ tsp. salt
1/8 tsp. cayenne pepper
9 oz. shell-on shrimp
1 tsp. fresh parsley
Peel and devein the shrimp. Put the shells in a small saucepan with about 1.5 cups of water. Bring to a boil and reduce to a simmer and cook for 5 minutes. Strain the shrimp broth and reserve it for later in the recipe.
In a medium pot, melt the butter over medium heat, add the flour and make a blond roux, stirring frequently for about 5 minutes.  Add the chopped onions, bell pepper, celery and garlic and cook until the onions are translucent, about 5 minutes.  Add the shrimp stock, bay leaf, diced tomatoes, salt, and cayenne pepper.  Bring to a boil and reduce to a simmer, and cook uncovered for about 30 minutes until it reduces into a sauce.  Stir occasionally.  Add the shrimp and cook for about 3 minutes, until they have turned pink.  Stir in the parsley and serve over steamed rice. Although not traditional, I liked serving it with capers.