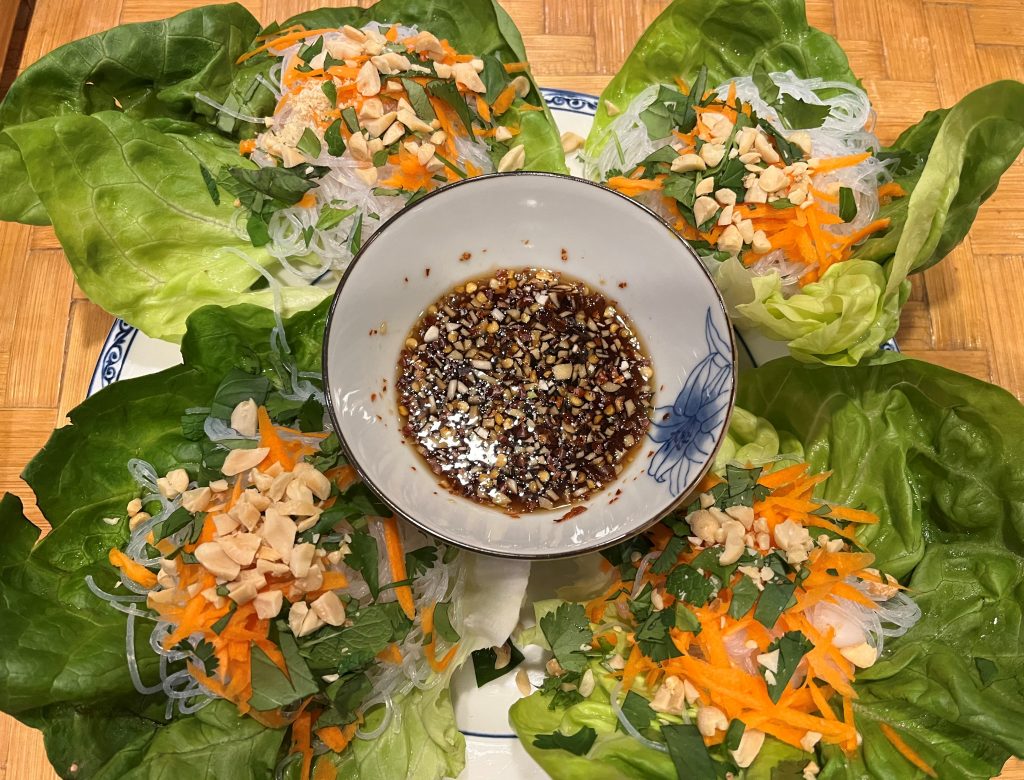 Carol was interested in a seafood equivalent of a lettuce wrap of spiced chicken for a Friday in Lent, and I spotted a shrimp lettuce wrap in The Sunset Cookbook. It was intended as an appetizer for 8-10 people, but it was a good light dinner for 2 persons. It was a bit messy, especially since we ate it on trays while watching a movie.
¾ lb. shrimp, peeled and deveined
¼ tsp. salt
¼ tsp. freshly ground black pepper
3.5 oz. (approx.) cellophane (bean thread) noodles (or other rice or wheat noodles
2 Tbs. unseasoned rice vinegar
1 tsp. red chili flakes
2 Tbs. fresh lime juice
2 large cloves of garlic, minced
1 Tbs. sugar
¼ cup fish sauce
8 large pieces of Bibb or other flexible lettuce
1 large carrot, grated lengthwise into matchsticks
¼ cup each basil, cilantro, and mint leaves
¼ cup dry-roasted peanuts, chopped
Put the shrimp, salt and pepper into a small pot and add water to cover. Bring to a boil and reduce to a simmer and cook the shrimp until it is pink and opaque, a couple of minutes. (Do not overcook.) Drain and put on a plate to cool.
Prepare the cellophane noodles per the package instructions. Drain, put in a medium bowl and mix in the vinegar.
Mix together in a small bowl the chili flakes, lime juice, garlic, sugar and fish sauce. Divide into 2 small bowls.
Assemble the lettuce wraps by putting on each of 2 plates 4 pieces of lettuce. Top each one with 1/8 each of the shrimp, noodles, carrot, herbs and peanuts. Spoon a portion of the sauce over each package when ready to eat.