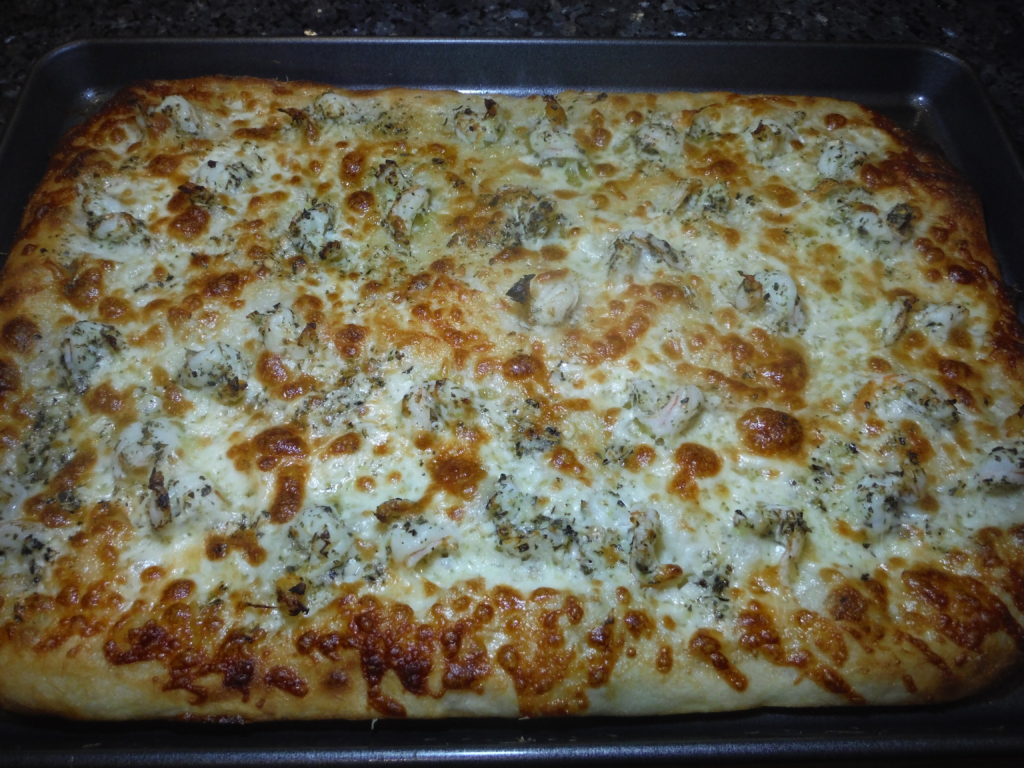 Frank Pepe's in New Haven is famous for their clam pizza, and there is a good version of it in Peter Reinhart's excellent book American Pie. In Houston it was much easier to get good shrimp than good clams, so I started making a similar pizza using shrimp as the base. This is my latest version of that. I made the dough in the same way as a Sicilian pizza, with a topping modeled on the clam pizza. It made 4 very tasty servings on a sheet pan.
I full recipe of pizza dough (from Pizza for One or for Many )
1 Tbs, olive oil to grease the cookie sheet
¼ cup olive oil
5 cloves garlic, finely chopped
1 Tbs. Italian herbs (dried)
½ tsp. salt
1 Tbs. lemon juice
8 oz. shrimp, shelled, deveined, and sliced in half lengthwise
4 oz. mozzarella, coarsely grated
2 oz. pecorino romano, finely grated
Preheat the oven to 475 degrees, preferably with a baking steel or baking stone.
Spread 2 tsp. of olive oil in a sheet pan with your hands, and then spread the risen dough in the pan. It may take some time and some rests of the dough to get it to permanently cover the sheet pan.
Mix together the ¼ cup of olive oil, the garlic, Italian herbs, salt, lemon juice and shrimp.
Mix together the grated mozzarella and romano, and spread it on the pizza dough. Evenly space out the shrimp on top of the cheese, and sprinkle whatever oil mixture remains over the pizza. Bake for 15 minutes, and then rest for 5 minutes before cutting and serving.