A couple of weeks ago, we had an excellent mushroom saganaki appetizer at Stella's Greek restaurant in Richmond.  I looked around the internet for a recipe for mushroom saganaki and noticed a recipe for shrimp saganaki published by the LA Times, which I adapted for dinner last night with a fresh baguette and a cucumber salad.  I sized this for two servings and cooked it in an ovenproof small frying pan.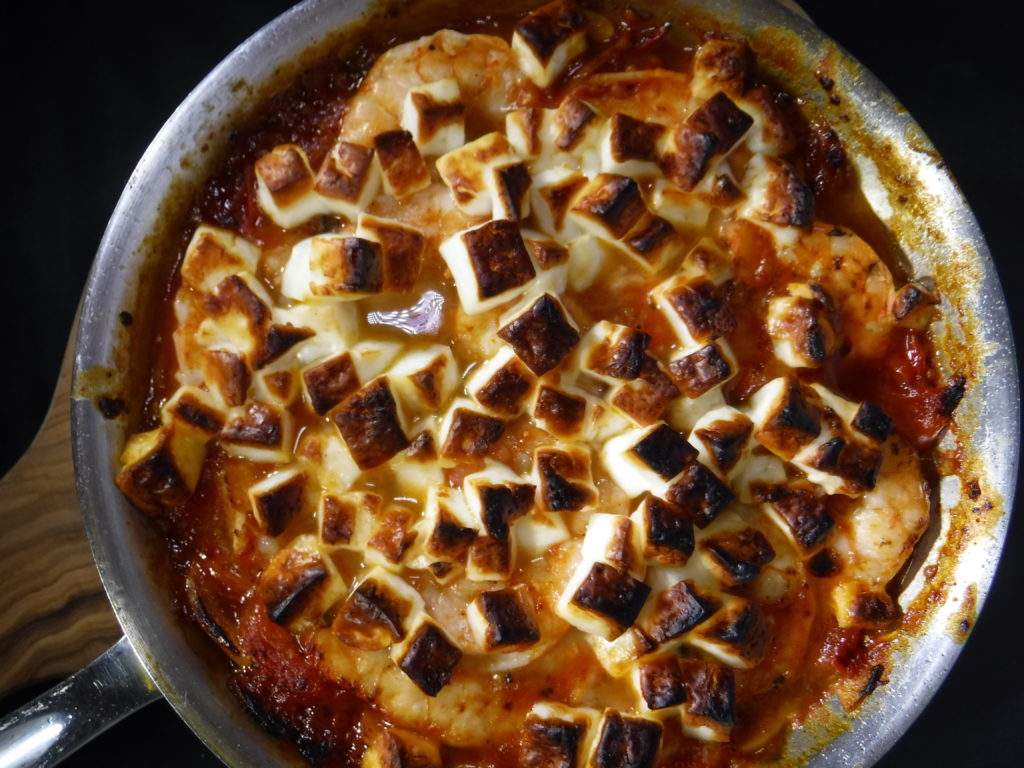 The key ingredient to saganaki dishes is Halloumi cheese, which will brown but not melt.
1 Tbs. olive oil
½ small onion, thinly sliced
1 Tbs. harissa paste
1 lb. cherry tomatoes, halved
2 cloves garlic, thinly sliced
½ Tbs. honey (Carol thought should reduce slightly)
Salt and pepper to taste
10 oz. shrimp, peeled and deveined
4 oz. halloumi cheese, drained and cubed
Pick a small ovenproof pan which can hold all the ingredients. Heat it on the stove with the olive oil, and then saute the onion until translucent. Add the harissa, and fry until fragrant, less than a minute. Add the cherry tomatoes and garlic and cook, stirring occasionally, until it forms a sauce. Remove from the heat, stir in the honey, and check for seasoning.
Preheat the broiler
Add the shrimp to the pan, burying them in the sauce. Put the halloumi pieces on top. Broil for about 5 minutes until the halloumi is browned and the shrimp is cooked. Serve with crusty bread.