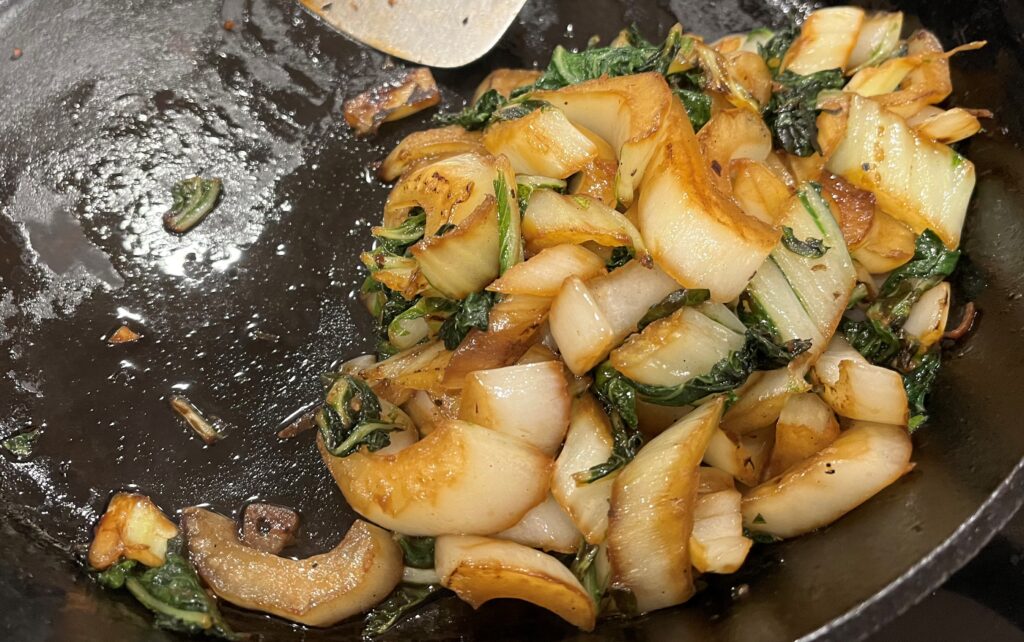 This easy and tasty way to cook Asian greens is adapted from Hsiao-Ching Chou's book Chinese Soul Food. The key thing is to get the pan really hot so that the greens get a bit of char on them.
12 oz. bok choy, baby bok choi, etc., cut into small pieces
1 Tbs. vegetable oil
3 medium cloves garlic, chopped
1 Tbs. soy sauce
2 Tbs. water
½ tsp. sesame oil
Like the typical stir-fry dish, everything should be ready before you start cooking. Have in a small bowl the soy sauce mixed with the water.
Heat the oil in a cast iron skillet or a wok until very hot. Add the garlic, and stir-fry until fragrant. Add the greens, and stir-fry until tender-crisp. Do not stir continuously so that some of the pieces have a chance to get a little char. Add the soy/water, and stir until the greens are cooked as much as you want. Remove from heat and stir in the sesame oil. Serve immediately.