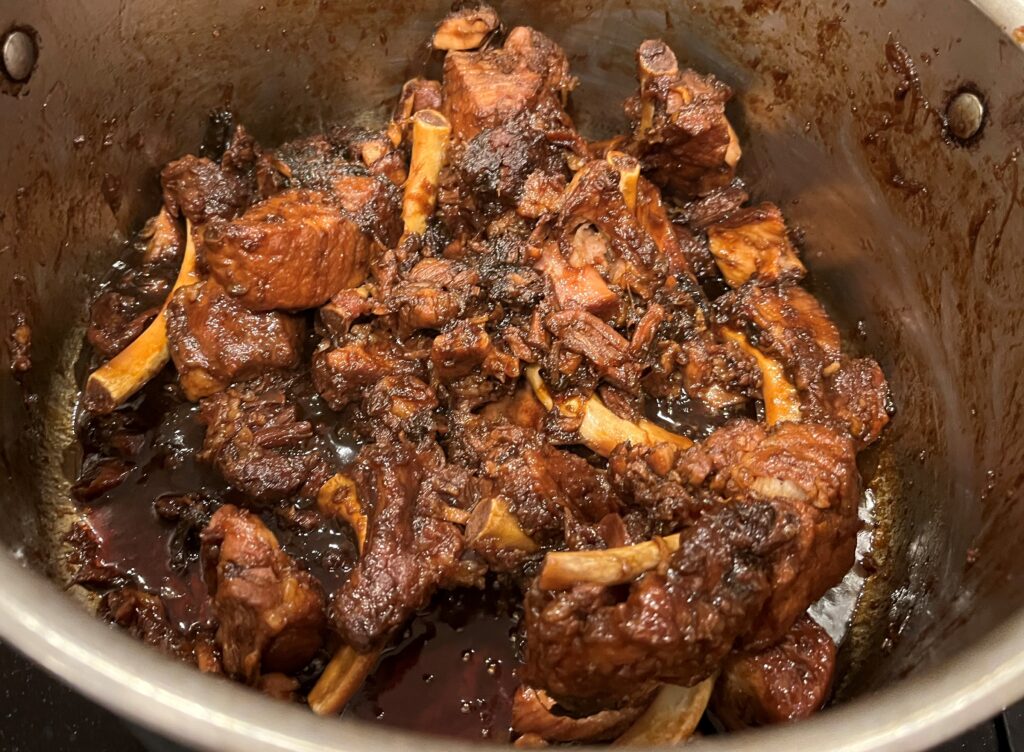 I very much liked the idea for this pork spare ribs braise in Hsiao-Ching Chou's book Chinese Soul Food, but I thought her version (which I made last night) was too salty and not sweet and sour enough. In the recipe below, I have noted what I think would be the right proportions, and what was in her recipe. I also think a bit of 5-spice powder would be a good addition. This took about 90 minutes last night and makes about 4 servings. How long it will take will depend on the size of the ribs. Asian markets may have spare ribs cut into small pieces which are ideal for this recipe.
2 lbs. pork spare ribs, cut into individual ribs
7 cups water, divided
1/3 cup soy sauce (originally ½ cup)
1/3 cup Chinese black vinegar or balsamic vinegar (originally ¼ cup)
1/3 cup brown sugar (originally ¼ cup)
1/3 cup dry sherry (originally ¼ cup)
6 large cloves garlic, roughly chopped
3 large scallions, cut into 1-inch pieces
In a large Dutch oven put the spare ribs and 3.5 cups of water. Bring to a boil and reduce to a simmer and cook for 5 minutes. Shake the scum off of each of the ribs and put the ribs in a bowl. Rinse out the Dutch oven to remove the scum and return it to the stove.
Put the ribs back in the Dutch oven with the remaining 3.5 cups of water and with all the other ingredients. Bring to a boil and then reduce the temperature to medium, and cook uncovered stirring occasionally. After about 45 minutes, periodically poke the ribs with a fork to test if they are fork-tender. When they have reached this stage, turn up the heat and begin boiling down the liquid into a sauce, stirring periodically. As the sauce gets thicker, watch it more closely and stir more frequently so that you get a nice thick sauce, but it does not burn. Serve with steamed rice.