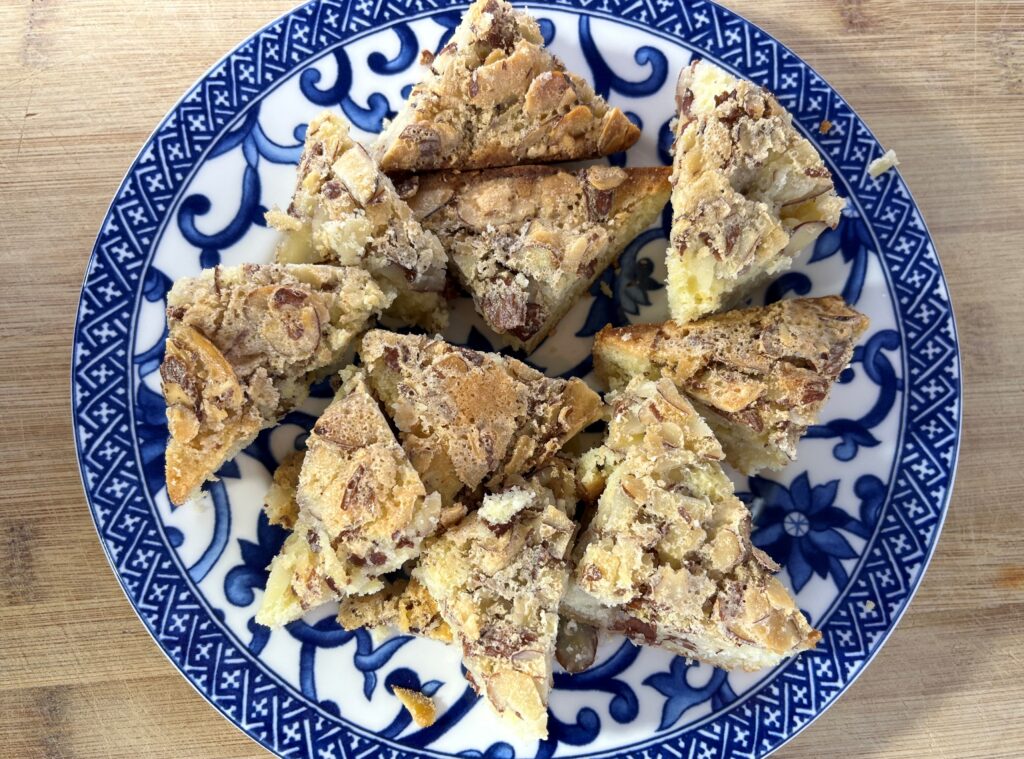 Some years ago, I adapted a dessert recipe by Dorie Greenspan so that it could be baked in a Dutch oven while camping. That dish,
Swedish Visiting Cake Bars – Camping Version , was a hit with my fellow campers.  Yesterday, I needed to bring something to a choir party and decided to bake at "at home" version of these bars.  They were also a hit.
Topping
120 g. (1 cup) confectioner's sugar
3 large egg whites
150 g. (1.5 cups) sliced almonds
Cake Bar
150 g. (3/4 cup) sugar
2 large eggs, at room temperature
¼ tsp. salt
1.5 tsp. vanilla extract
¼ tsp. almond extract
136 g. (1 cup) all-purpose flour
1 stick (4 oz.) unsalted butter, melted and cooled
Preheat the oven to 350 degrees. Line the bottom of a 9 x 9 inch baking dish with baking parchment. Spray the sides with cooking spray.
In a medium bowl, mix together the confectioner's sugar and the egg whites. Add the almonds and mix until all of the almonds are coated in the sugar-egg mixture.
In a larger bowl, whisk together the sugar, eggs, and salt for about 2 minutes, until the mixture has lightened in color and thickened a little. Whisk in the vanilla and almond extract. Stir in the flour with a flexible spatula. Fold in the melted butter gradually until fully incorporated.
Pour the batter into the prepared baking pan. Using your fingers, drop the sugar-egg-almond topping on the batter, taking care to cover the batter evenly, including in the corners.
Bake for 28-32 minutes until a cake tester comes out clean. Cool in the pan on a rack for 5 minutes, and then using a second rack, remove the cake from the pan, remove the baking parchment, and allow to fully cool, bottom side down on the rack. When cool, cut into pieces for serving. For the choir party, we cut it into nine 3-inch squares, and then cut each square along the diagonals into 4 pieces.