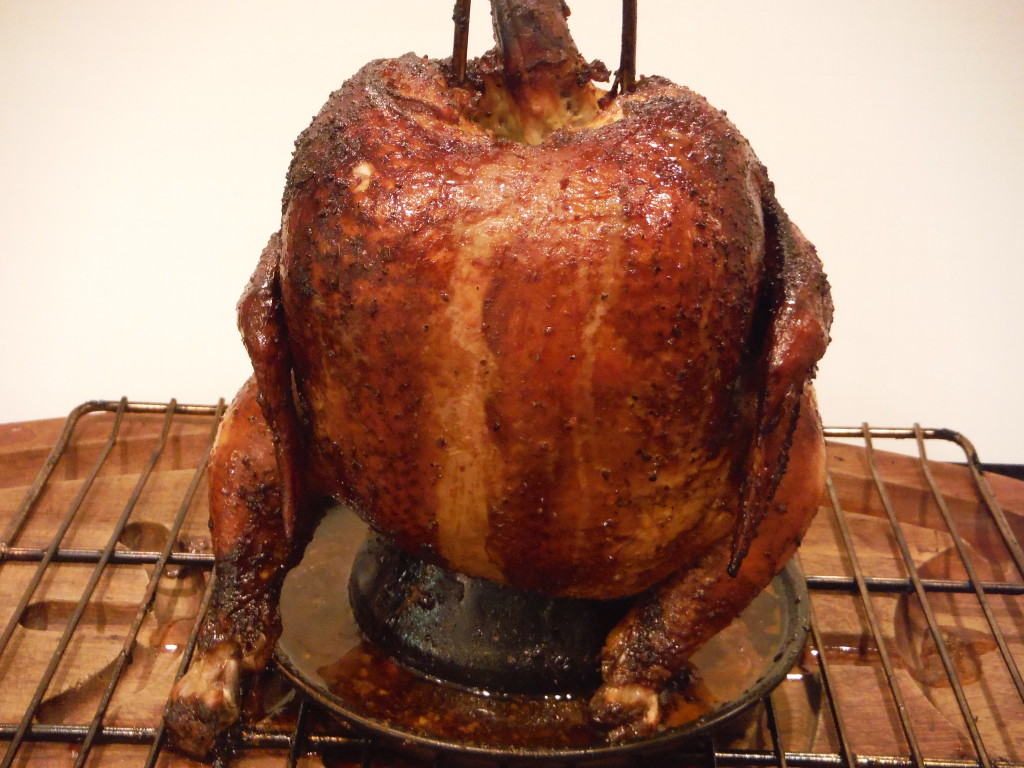 This is essentially an upscale version of "Beer Can Chicken" using a roasting stand from Sur La Table instead of precariously balancing the chicken on its drumsticks and a beer can.  This is a good example of the low and slow school of barbequing.
1 chicken
1/4 cup of dry rub
1 cup of beer
Kraft Zesty Italian salad dressing
At least several hours in advance (or the night before), rinse and pat dry the chicken with paper towels.  Rub the chicken inside and out with the dry rub and put it on the stand and in a refrigerator.  This gives the dry rub time to penetrate the chicken.  An hour before you start roasting the chicken, remove it from the refrigerator to start warming up.
Heat up your grill or smoker to 250 degrees.  (I used a MasterBuilt electric box smoker.)  Put in the well in the roasting stand about a cup of beer and about 1/4 cup of the Kraft Zesty Italian salad dressing.  Rub the chicken all over with the Kraft Zesty Italian salad dressing.  Put a temperature probe into a thick part of the chicken breast.  Cook until it reaches an internal temperature of 165 degrees, about 4 hours.  Every hour baste with more salad dressing.
When fully cooked remove from the grill or smoker and allow to rest for 10 minutes before cutting the chicken.