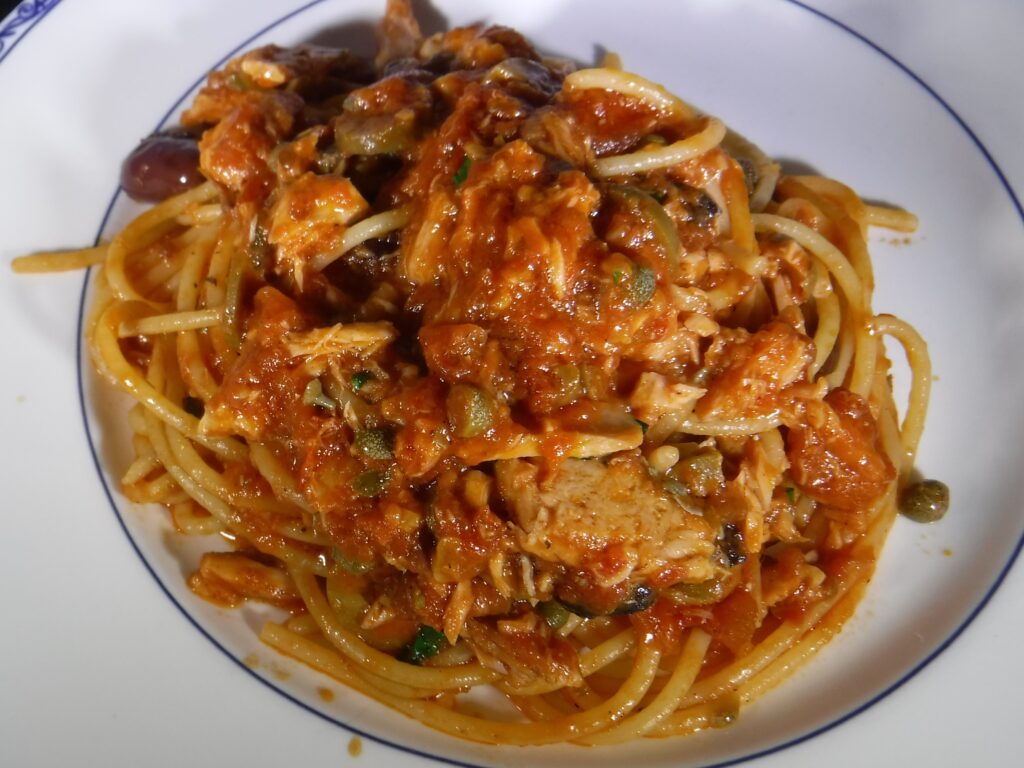 This version of spaghetti is a good mid-week choice since it can be made quickly and almost entirely with pantry ingredients. It calls for fresh basil, but if that is unavailable, dried basil could be used. This version makes two servings and is adapted from a spaghetti con tonno recipe at parade.com
4.5 oz. spaghetti
1 Tbs. olive oil
3 cloves garlic, finely chopped
¾ cup marinara sauce
4 anchovy filets, finely chopped
1 tsp. Calabrian or other chili puree (optional)
1 Tbs. capers, chopped
2 Tbs. Kalamata or similar olives, chopped
6 oz. jar of oil packed tuna, including the oil
1 Tbs. fresh basil, chopped
Combine together in a small bowl the marinara sauce, anchovies, chili puree, capers, and olives.
Cook the spaghetti al dente and reserve the pasta water.
While the spaghetti is cooking, sauté the garlic in the olive oil in a large skillet over medium heat. Add the bowl with the marinara sauce, stir, bring to a boil and reduce to a simmer.
When the spaghetti is cooked, add the drained spaghetti to the skillet and stir to mix with the sauce. Add a bit of pasta water as needed to help the spaghetti and sauce come together. Add the tuna and its oil, plus the basil. Stir, but try not to break up the tuna too finely. Heat through and serve.