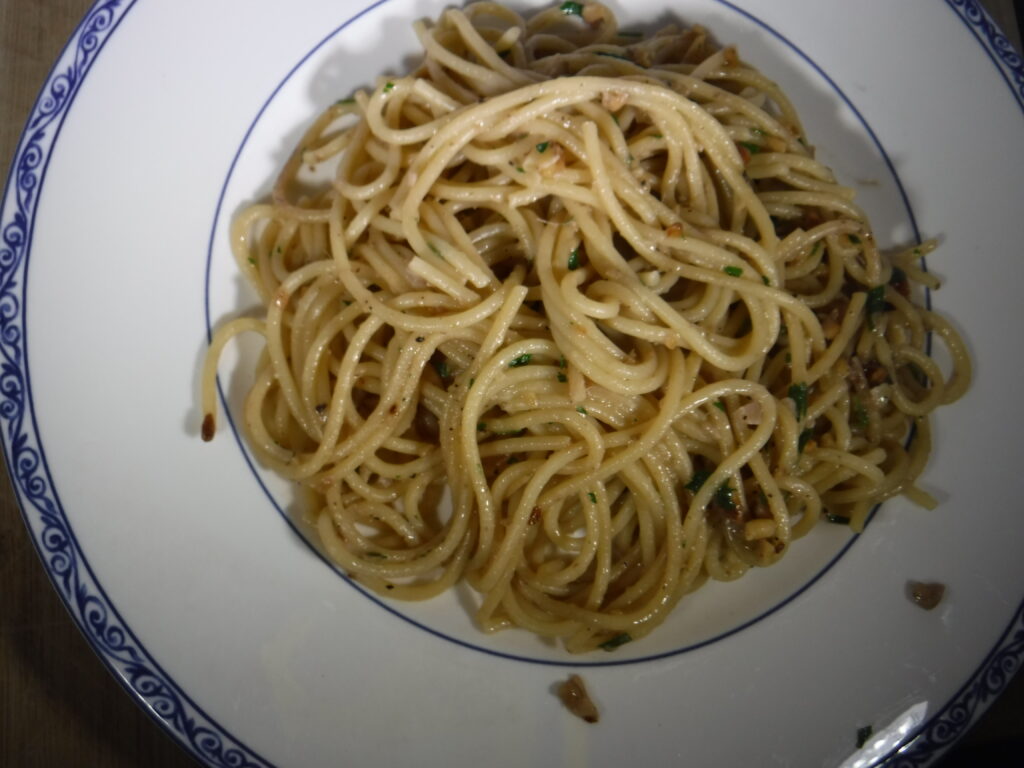 This is a quick dinner suitable for midweek.  It is an adaptation of a recipe in the New York Times.  It makes 4 entrée servings.
½ cup walnut halves
¼ cup olive oil (including the oil from the anchovies)
3 garlic cloves, minced
1 small can of anchovies
¾ lb. good spaghetti
¼ cup chopped fresh parsley
Freshly ground black pepper
¼ cup freshly grated Pecorino Romano (plus more for serving if desired)
Preheat the oven to 375 degrees. Toast the walnuts on a cookie sheet until fragrant, about 5 minutes. Remove them from the oven, allow them to cool, and chop them medium-fine.
Cook the spaghetti to al dente per the package instructions.
While the spaghetti is cooking, make the sauce. Put the olive oil in a large skillet and saute over medium heat until fragrant. Mash the anchovies in a small bowl and add them to the skillet and cook for another minute. Add the walnuts and saute another minute. Remove from the heat until the pasta is done.
When the spaghetti is done, add it to the skillet with ¼-1/2 cup of the pasta water. Turn the heat back on to medium, and mix and heat the pasta. Mix in the parsley, a generous quantity of black pepper, and the Pecorino Romano. Continue to toss until everything is evenly mixed. Serve with additional Pecorino Romano if desired.