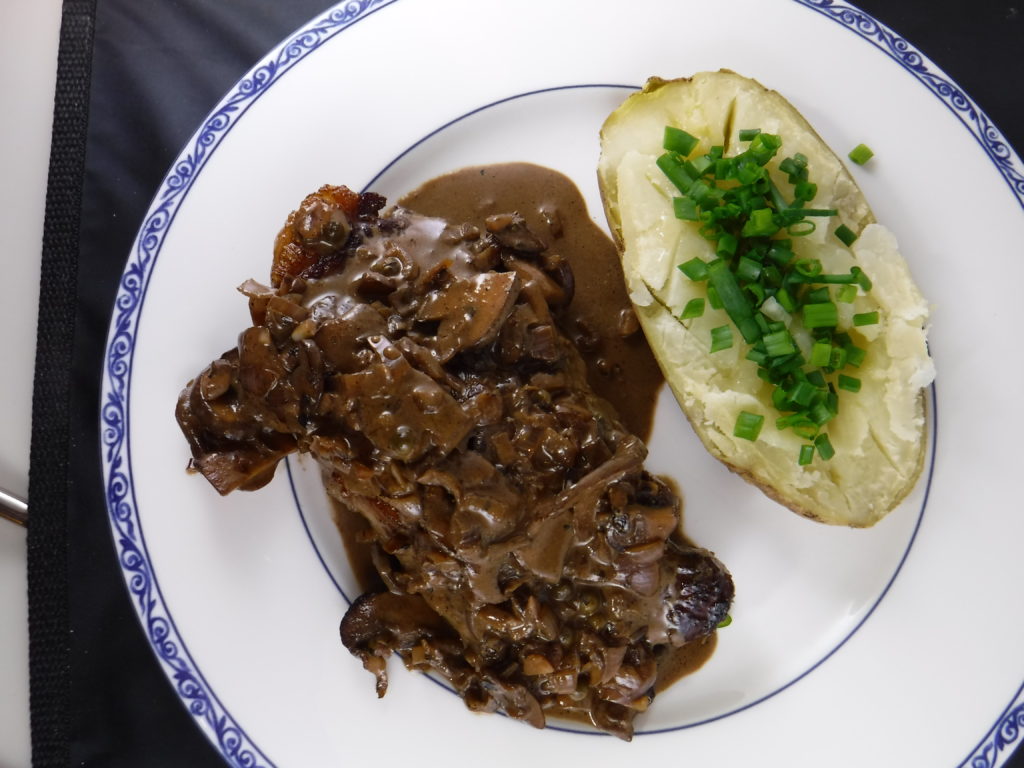 Steak Diane is a pan-fried steak served with a pan sauce, which was very popular in the 1960s and 1970s. Why it went out of fashion is mysterious, since it is fairly easy to make and is extremely tasty. It is a great Friday night dinner – a bit special but not time-consuming, other than the step of reducing the beef stock, which could be done in advance. This version is largely based on a recipe from Guy Fieri on the Food Network. The biggest difference is that for some unknown reason he left off cream, which is usually included for this dish. I have scaled this for two persons.
This is the sort of recipe which is more a guideline than a rule.  Use what you have.  This shows what I had, and it was very good.  Another pointer is that once the cooking starts, it goes quickly, so everything needs to be ready (mise en place).
2 cups low sodium beef broth
2 strip steaks, 8 oz. each
½ tsp. kosher salt
½ tsp. freshly ground black pepper
2 Tbs. butter
1-1/2 cups cremini mushrooms, sliced
1 shallot, sliced
2 cloves garlic, minced
¼ cup brandy
¼ cup red wine
1-1/2 tsp. Dijon mustard
1-1/2 tsp. Worcestershire sauce
1 tsp. green peppercorns (Optional, but good)
1/3 cup sour cream
In a saucepan or small skillet, reduce the beef broth to ¼ cup, which will take about 30 minutes. Set aside.
Sprinkle the salt and pepper over the two sides of the steaks.
In a large skillet, melt the butter over medium-high heat. Saute the steaks about 3 minutes on each side. Remove the steaks to a covered platter to keep warm.
Add the mushrooms and shallots to the skillet, and cook about two minutes, stirring frequently. Add the garlic and cook for another minute or so, until fragrant. Add the brandy, wine, mustard, Worcestershire sauce, green peppercorns, and reduced beef stock, and cook for another couple of minutes, stirring frequently. Return the steaks to the skillet to warm, and to cook further if necessary. (Medium would be about 131 degrees on an instant read thermometer.) Add in sour cream (or regular cream) to taste, and serve.