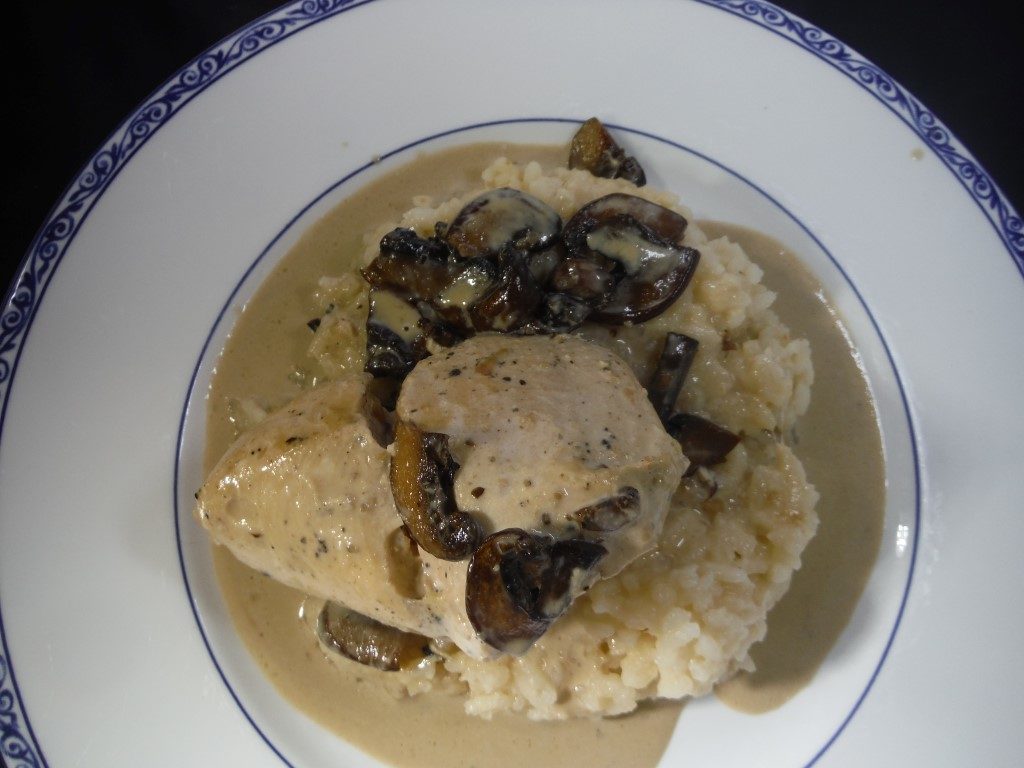 In the book Julie and Julia, author Julie Powell sets out to cook her way through Mastering the Art of French Cooking. In the movie based on the book, I think that one of the first dishes she tries is chicken breasts in cream, which is indeed a very tasty dish. I made this some time ago following Julia's directions. After thinking about it a while, I realized that her unusual way of cooking the chicken breasts was intended to keep them from being overcooked, which is a common problem with chicken breasts, and that modern technology, in the form of sous-vide equipment, makes it much easier to achieve Julia's objective. This post is an variation on Julia's recipe as adapted for sous-vide.
4 boneless skinless chicken breasts (~1.75 lb.)
½ tsp. lemon juice
¼ tsp. salt
Freshly ground pepper
2 Tbs. butter
1 Tbs. minced shallot or onion
6 oz. mushrooms, sliced
1 tsp.Chicken Better than Bouillon (or a cup of chicken stock)
¼ cup Rainwater madeira (or port, sherry, other madeira, dry white vermouth)
1 cup heavy cream
Salt and pepper to taste
Sprinkle the chicken breasts with the lemon juice, the salt, and pepper. Put them in a gallon ziplock baggie, express all the air, and cook them in a sous-vide cooker for ~1.5 hours at 150 degrees.
While the chicken is cooking, start the sauce. Melt the butter in a large skillet. Add the shallot or onion, and cook over medium heat for a minute or two, until translucent. Add the mushrooms, and cook until they have released all their liquid, and the pan is dry again. Add in the chicken bouillon or stock and the madeira, and reduce it to a syrup. Stop at this point until the chicken is done in the sous-vide cooker.
When the chicken is done, pour the liquid which has accumulated in the ziplock baggie into the skillet, stir well, and cook over medium heat until the skillet is back to being a syrup with mushrooms. Mix in the cream, stir well, and cook until slightly reduced. Add the cooked chicken breasts and coat them with the sauce. Serve with a risotto or with steamed rice.