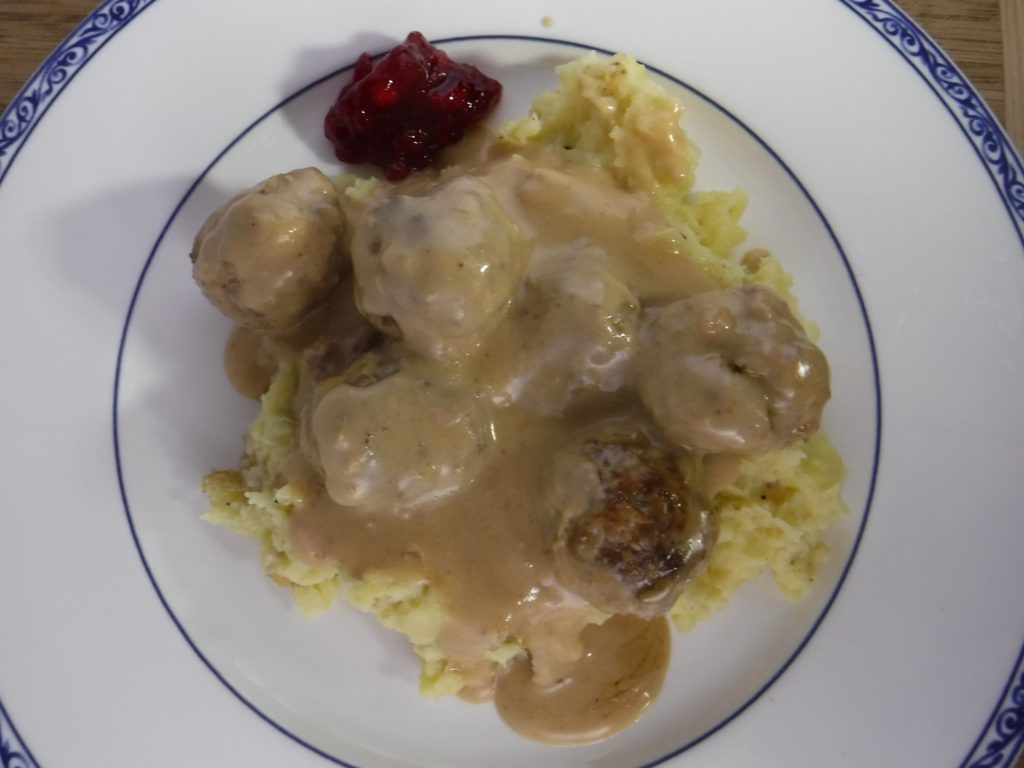 The internet was ablaze a few weeks ago with articles stating that Ikea had released the recipe for the Swedish meatballs they sell in their stores.  I saw one of these articles and decided to make them.  I had to do some adjusting since the recipe was written for a European audience.  I changed the technique to roast the meatballs rather than pan fry and then roast at a lower temperature.  This allowed me to prepare the sauce while the meatballs were cooking, and shortened the whole process.  The meatballs were excellent with mashed potatoes and lingonberry preserves.
For the Meatballs
1 lb. ground beef
½ lb. ground pork
1 medium onion, finely chopped
1 clove garlic, finely chopped
½ cup breadcrumbs
1 egg
1/3 cup whole milk
1 tsp. salt
Freshly ground black pepper
For the Sauce
3 Tbs. butter
3 Tbs. all-purpose flour
2/3 cup vegetable stock
2/3 cup beef stock
2/3 cup heavy cream
2 tsp. soy sauce
1 tsp. Dijon mustard.
Preheat the oven to 400 degrees. In a medium bowl, mix together the breadcrumbs, egg, and whole milk. In a large bowl, mix together the ground beef and pork, onion, garlic, salt, and pepper. Add the contents of the small bowl into the large bowl and mix well. Form the meat mixture into 1 inch meatballs. Place the meatballs in an 13 x 9 baking dish and bake until browned and cooked through. About 20 minutes.
While the meatballs are cooking, make the sauce. In a large skillet, melt the butter over medium heat. Add the flour and whisk it into the butter. Cook for a few minutes, until creamy colored. Add in the vegetable and beef stock, and stir until well mixed. Add the cream, soy sauce, and mustard, and mix well. Simmer the sauce. When the meatballs are finished cooking in the oven, add them to the sauce with a slotted spoon so that the rendered fat is left behind in the baking dish. Simmer together for 5 minutes. Check the seasoning, and serve.