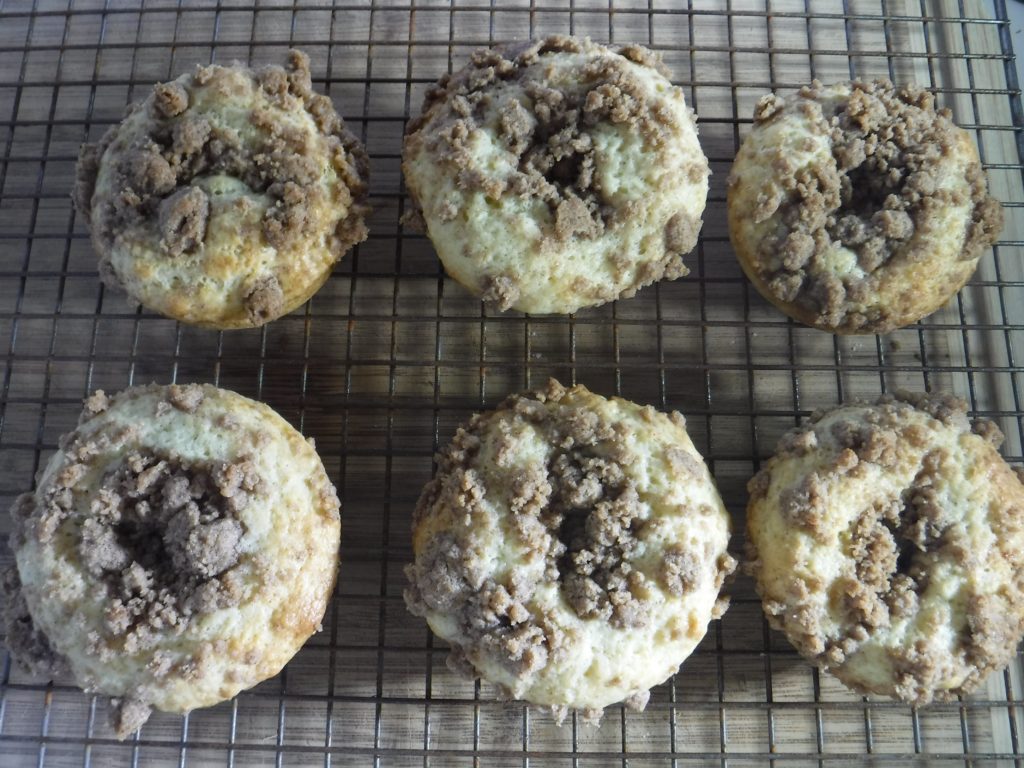 Carol recently bought a pan for baking 6 donuts, so I kept my eyes open for baked donut recipes. I spotted the Easy Baked Donut Cookbook on line at a good price, bought it, and made its coffee cake donuts. I don't think they looked very donut-like, but they were tasty and cooked quickly. I made 6 donuts out of one half of the book's recipe.
For the streusel topping
46 g. (3/8 cup) all-purpose flour
33 g. (1/6 cup) firmly packed brown sugar
1-1/2 tsp. granulated sugar
1 tsp. cinnamon
1/8 tsp. salt
2 Tbs. unsalted butter, melted
For the sour cream donuts
Non-stick cooking spray
3 Tbs. unsalted butter, melted
2 tsp. vegetable oil
75 g. (3/8 cup) sugar
1 large egg, at room temperature
¾ tsp. vanilla
¼ cup sour cream, at room temperature
¼ cup buttermilk, at room temperature
140 g. (1-1/8 cups) all-purpose flour
1 tsp. baking powder
¼ tsp. baking soda
3/8 tsp. salt
Pinch ground nutmeg
Powdered sugar (optional, but pretty)
Preheat the oven to 350 degrees
To make the streusel topping, put on the dry ingredients in a bowl. Drizzle in the melted butter. Mash together with a fork. Store in the refrigerator while making the dough.
In a medium bowl, mix together the butter, oil, sugar, eff, vanilla, sour cream, and buttermilk. In a separate bowl, mix together the flour, baking powder, baking soda, salt, and nutmeg. Mix the dry ingredients into the wet ingredients. Grease the donut pan with cooking spray. Fill the donut grooves with the batter. Remove the streusel topping from the refrigerator and crumble it on top of the donut dough. Bake until the donuts are cooked through, about 12-14 minutes. Cool them on a wire rack in the pan for 10-15 minutes, and then remove them from the pan to finish cooling on the wire rack. Dust with powdered sugar before serving.