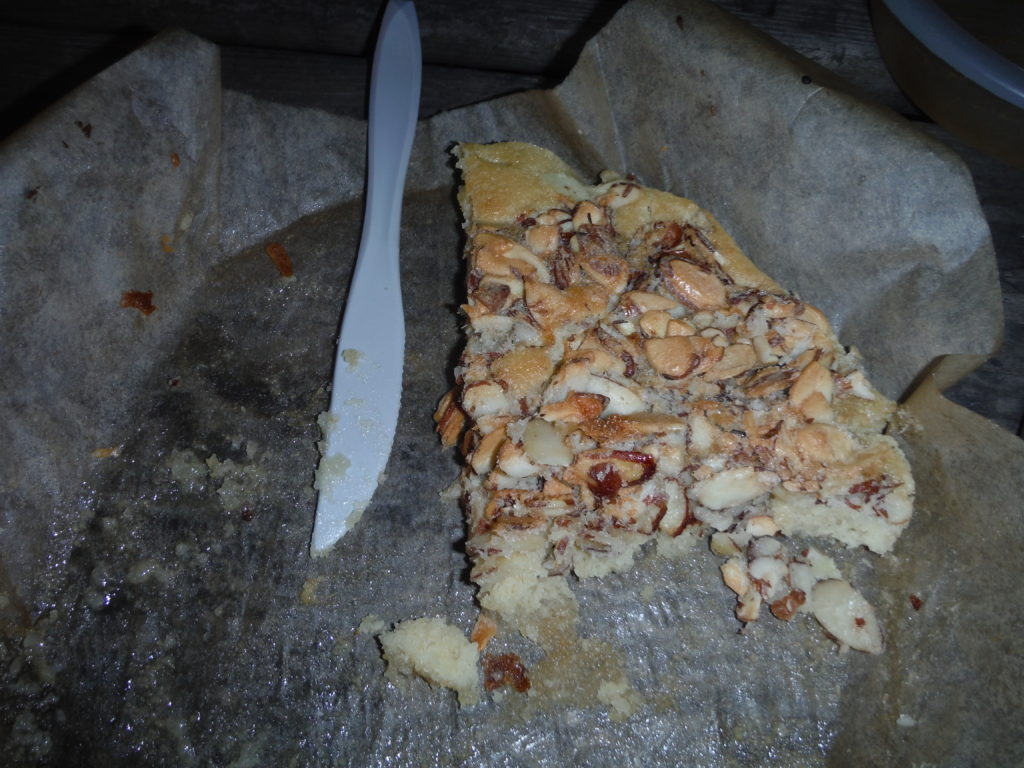 This is an adaptation, for camping and baking in a Dutch oven, of an almond bar recipe which Dorie Greenspan published in Saveur Magazine. It was a hit at the campout at Camp Shenendoah.
For the Bars
4 oz (1/2 cup) soft butter
¾ cup sugar
2 large eggs
1-1/2 tsp. vanilla extract
¼ tsp. almond extract
1 cup all purpose flour
For the Topping
1 cup confectioners's sugar
3 large egg whites
1-1/2 cups sliced almonds
Dutch oven
9-inch cake pan
Aluminum foil
Baking parchment
Line a 9-inch cake pan with baking parchment.
Make the topping by mixing together in a 1-quart ziplock baggie the confectioner's sugar and the 3 egg whites. Close the top of the bag with most of the air removed and massage the bag from the outside with your fingers until the sugar and egg whites are well mixed. Add the sliced almonds to the bag, close it again, and massage it again until the almonds are well coated with the sugar-egg white mixture.
Make the bars by putting the soft butter and sugar in a 1-gallon ziplock baggie. Expel most of the air and massage the bag on the outside until the butter and sugar are creamed together. Open the baggie and add the two eggs, vanilla extract, and almond extract. Close the baggie, expel most of the air and massage until the egg is mixed into the sugar-butter mixture. Open the baggie and add the flour. Close the baggie again, expel most of the air, and massage it until the flour is well incorporated. Open the baggie and empty it on top of the parchment in the cake pan. Spread the batter to cover the pan evenly. Open the topping baggie and empty it over the batter for the bar. Try to cover the top evenly, and then lightly spread it as needed. Here is what it looks like before being baked.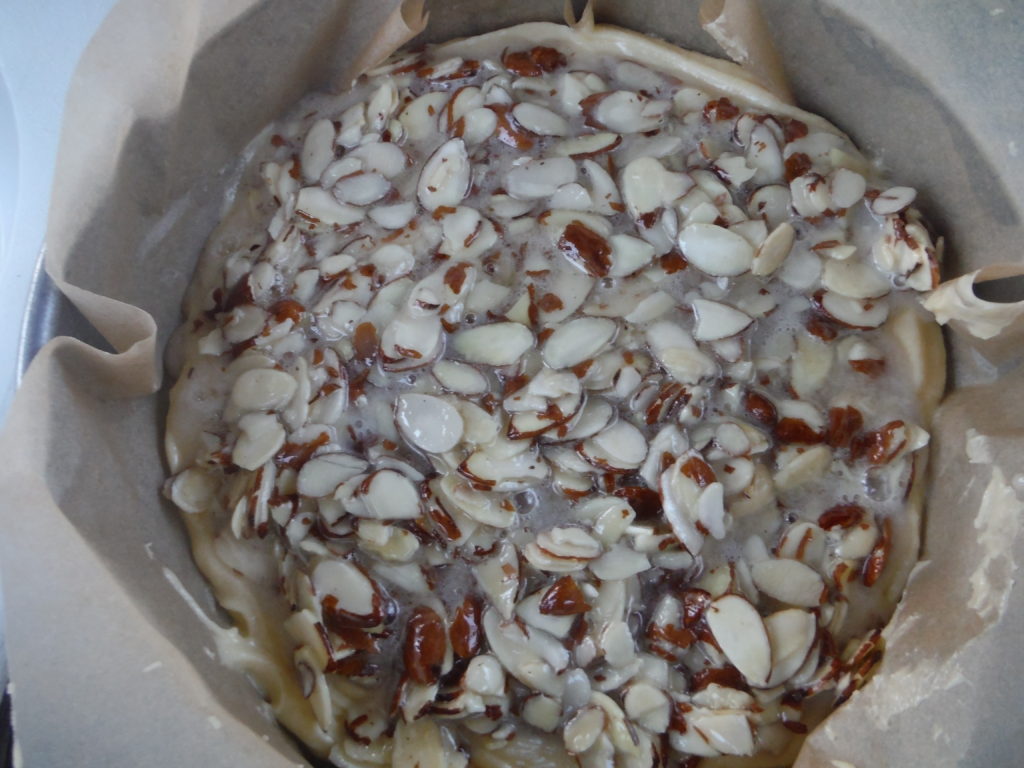 Make aluminum foil ropes to put in the bottom of the Dutch oven so that the cake pan is ½-1 inch off the bottom of the Dutch oven. Insert the cake pan, cover the Dutch oven, and bake at moderate temperature for around 30 minutes, or until a knife inserted into the cake comes out clean. How many coals are needed and how long it will take will depend on the ambient temperature and the amount of wind. On a windy February evening, with the ambient temperature of about 40 degrees, I started with 15 coals on top and 10 on the bottom, and found that more coals were needed. I kept adding coals and checking progress every 5 minutes until the bars were fully cooked.
Allow to cool to warm or room temperature, cut into wedges and serve.