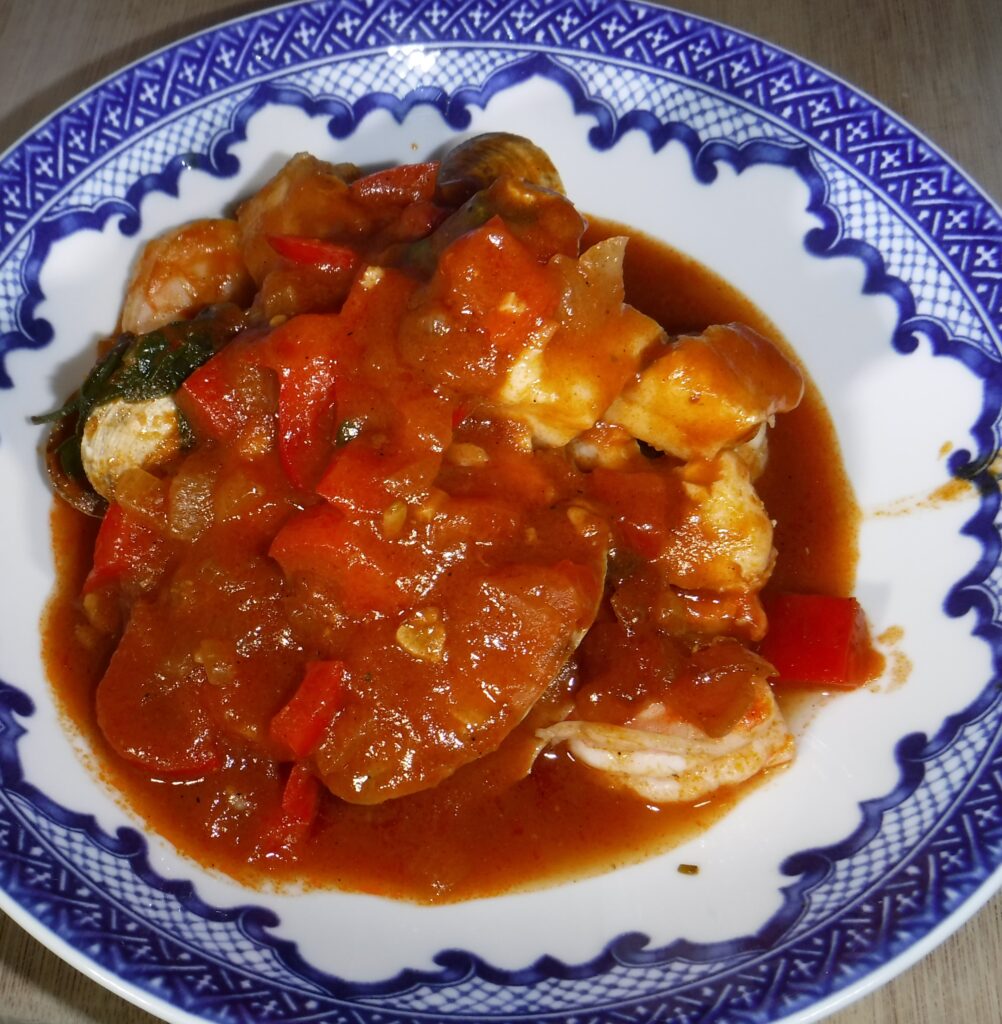 This year we wanted to have a seafood feast for two for New Year's Day. Usually, we would make some variation of the San Francisco-style Italian-American soup Cioppino, such as Cioppino for the Beach . This time, for variety, I based our feast on a recipe in a new cookbook I got for Christmas, Food of the Italian South. This made two servings and was done in about 30 minutes. A key point to recognize is that the various seafoods do not all cook in the same time. They need to be put in the soup in order, with the slowest cooking items put in first, and each type should be removed to the bowls when cooked to prevent overcooking. The original recipe used clams, mussels, fish, shrimp, and calamari. Based on what was available at Wegman's in small quantities suitable for two people, I used clams, Chilean sea bass cut in cubes, shrimp, and lump crabmeat. I made it with more tomato than the original.
I like to buy shell-on shrimp and to use the shells to make a shrimp broth as an ingredient. That takes only a few minutes.
2.5 Tbs. olive oil
3 cloves garlic, chopped
¼ large onion, diced
½ bell pepper, diced
5 Italian parsley sprigs
½ cup dry white wine
½ cup water or shrimp broth (water brought to a boil with the shrimp shells)
8 oz. can tomato sauce (or half a 14 oz. can of diced tomatoes)
6 steamer clams
1/3 lb. shrimp
1 piece Chilean sea bass
4 oz. lump crab meat
Salt and pepper to taste (I used some good quality fish sauce to provide the seasoning)
In a large skillet, heat the olive oil over medium-high heat. Saute the garlic until lightly browned. Add the onion pepper and parsley, and saute until the onion is translucent. Add the white wine and cook until the alcohol aroma dissipates, about a minute. Add the water or shrimp broth and the tomato. Mix well. Add the clams and cover. When they have opened up, remove the cover and add the fish, and after a few minutes add the shrimp. Stir and check for doneness. Whatever is done should be removed to the individual bowls to prevent overcooking. Just before everything is finished, add the lump crab meat to warm it through. Check for seasoning. Serve with crusty bread and a nice white wine.