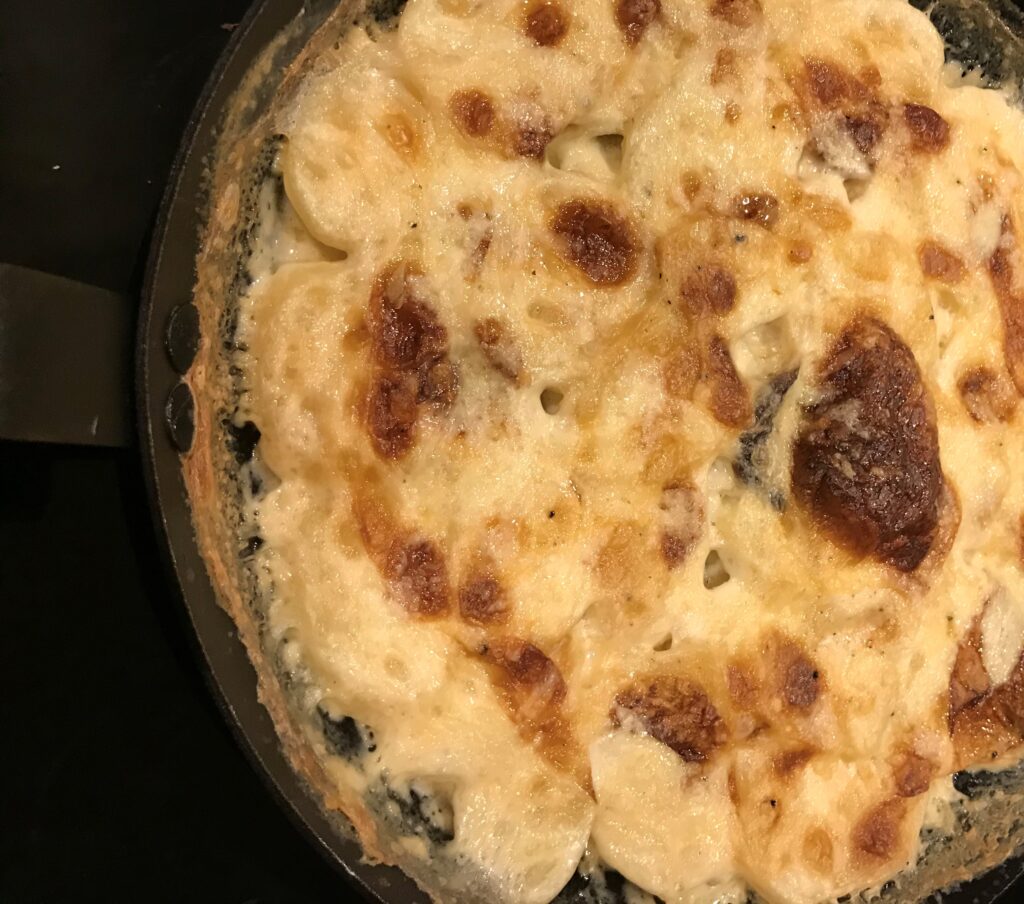 We accompanied Apple Smoked Duck with potatoes au gratin based on a recipe in the NYT by Mark Bittman. This dish requires a large skillet which can go in the oven. We used a carbon steel skillet. This made 4 large servings. Carol thought it was too liquidy when it started, but I thought it was just right when it ended.
3-4 lbs. Yukon Gold or similar potatoes, peeled and cut into ¼ inch slices
Kosher salt and black pepper
2 Tbs. unsalted butter
2 cups half-and-half
1/3 cup cheese (we used cheddar)
Heat the oven to 400 degrees. Layer the potatoes in the ovenproof 10 or 12 inch skillet seasoning each layer with salt and black pepper. Dot the top with the butter. Pour in the half-and-half. The potatoes will look like they are swimming in the liquid, but the skillet should not be too full since it will be moved later from the stovetop to the oven.
On the stovetop, bring the mixture to a boil over medium-high heat, and then reduce to low and cook uncovered for about 10 minutes, or until the liquid has been reduced in half.
Carefully move the skillet to the oven. Bake at 400 degrees for about 10 minutes, until the top is golden brown. Reduce the heat to 300 degrees and cook until the potatoes are fork tender, about another 8 minutes. Top with the grated cheese and cook until the cheese is melted and golden, another 3-5 minutes.