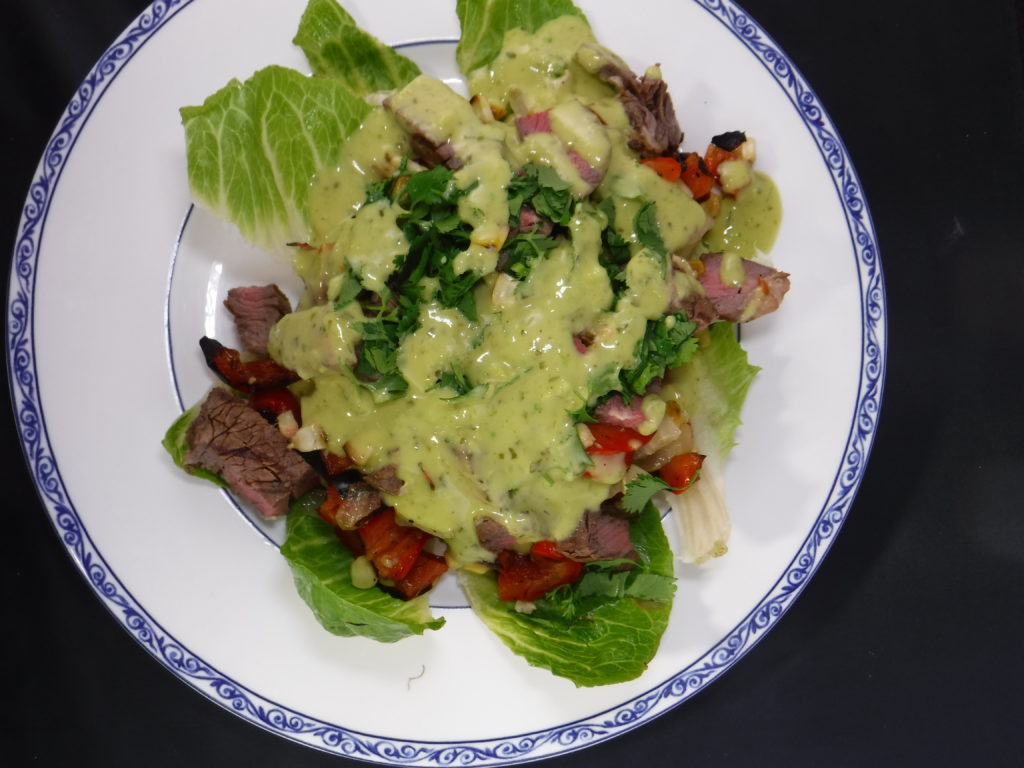 This was an inspired idea to create a simple dinner salad which would be nearly all cooked on the grill. Quantities shown below are for 2 servings.
2/3 lb. steak
1 red bell pepper, cut into strips
1-1/2 ears of corn
1 large onion, cut into thick rings
¼ cup chopped cilantro
~6 Tbs. guacamole salsa (such as Herdez)
Olive oil
Salt and pepper
Steak marinade (optional)
Romaine lettuce
Prepare the steak for grilling. (I used a teriyaki marinade.)
Brush the corn, pepper strips, and onion slices with olive oil.
Heat the grill, and cook the steak and vegetables. The idea for the peppers and onions is to have some of the cooking at a higher heat to get a char, and some of the cooking at a lower heat to make sure they are fully soft and not over-charred. (I used a wire rack for the peppers and onions to make sure the pieces did not slip through the grill.) When each item is cooked to the right level, remove it from the grill and allow to cool.
Cut the onions and peppers into chunks. Cut the steak into small pieces. Cut the corn kernels off the cobs. Mix all these items together.
Compose a salad by making on each plate a bed of lettuce which is topped with the steak and vegetable mixture. Sprinkle on the chopped cilantro, and top with guacamole salsa to taste