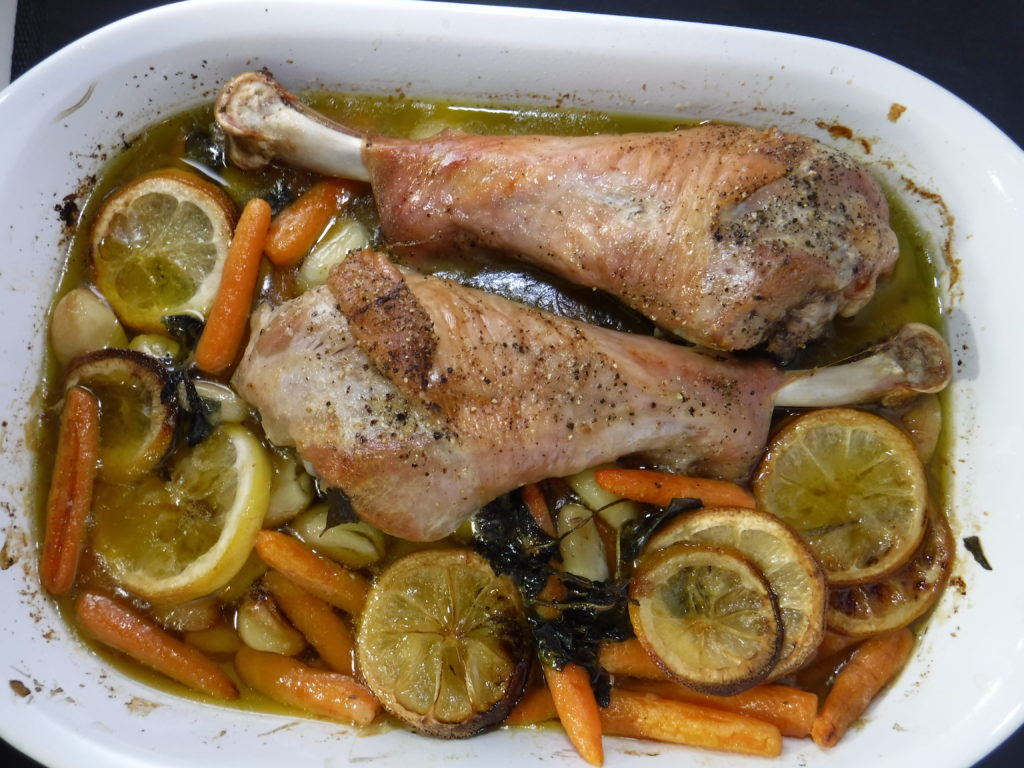 The NYT had a recipe in which chicken legs were roasted in the oven in olive oil with carrots, garlic and lemon. We had some turkey legs in the freezer, and so we adapted the idea to turkey legs. The oil in which the turkey cooked, now flavored with poultry, garlic, carrot, and lemon, can be saved in the refrigerator and used to cook other dishes. With two turkey legs, this was two servings. If using chicken legs/thighs, increase the chicken to 2 lbs. and leave the other ingredients unchanged, and you will have 4 servings.
2 turkey legs
8 oz. carrot gems
2 heads garlic, separated and peeled
1 lemon, washed and sliced
½ bunch of oregano
1 cup olive oil
Salt and pepper
Heat the oven to 350 degrees. Salt and pepper the turkey legs.
Find a baking dish just large enough to hold the turkey legs and other ingredients in a single layer. Put in the turkey legs and surround them with the carrots, garlic, lemon slices, and oregano. Pour in the olive oil. Roast in the oven until the turkey legs are falling off the bone tender, basting them occasionally. This will take 60-75 minutes. Allow to cool slightly, and serve with bread or rice.
Strain the oil and store it in the refrigerator to use as a flavored cooking oil. It would be great for pilaf.