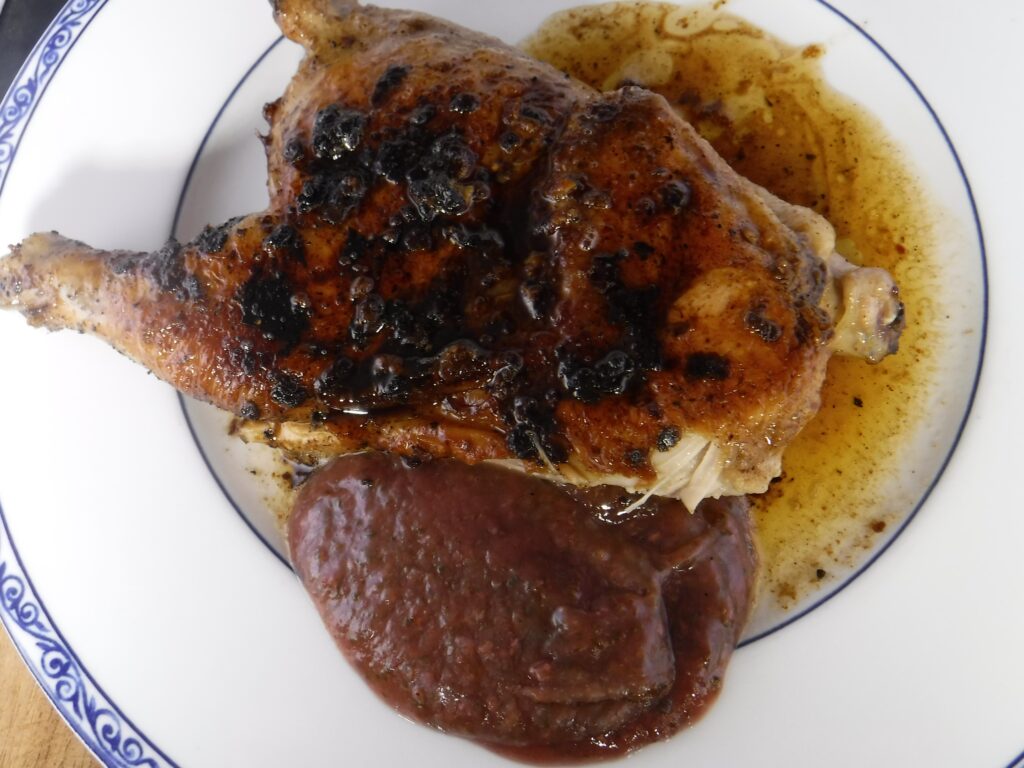 I made a batch of this popular Georgian condiment to go with Garlicky Cornish Game Hens (Tabaka). I thought a little bit of it nicely enhanced the garlic sauce for the game hens. This version is adapted from Darra Goldstein's book The Georgian Feast.
1.5 lbs. plums (not too sweet or ripe)
¼ cup water
¾ tsp. whole coriander seed
1 tsp. fennel seed
2 cloves garlic, roughly chopped
1 tsp. cayenne pepper
½ tsp. salt
1 Tbs. fresh mint, chopped
1/3 cup cilantro, chopped.
Cut the plums in half and remove the pits. Put them and the water in a medium saucepan and bring to a boil. Reduce to a simmer and cook covered until soft, about 15 minutes. Drain the plums and run them through a food mill, returning the plums to the saucepan
Using a mortar and pestle, pound the coriander, fennel seed, garlic, cayenne, and salt into a paste.
Bring the plum puree to a boil and cook for about 3 minutes, stirring often. Add the spice paste and cook for another 5 minutes or so, until the mixture thickens slightly. Stir in the mint and cilantro and remove from the heat. Pour into a pint jar while still hot. Allow to cool and then store in the refrigerator.