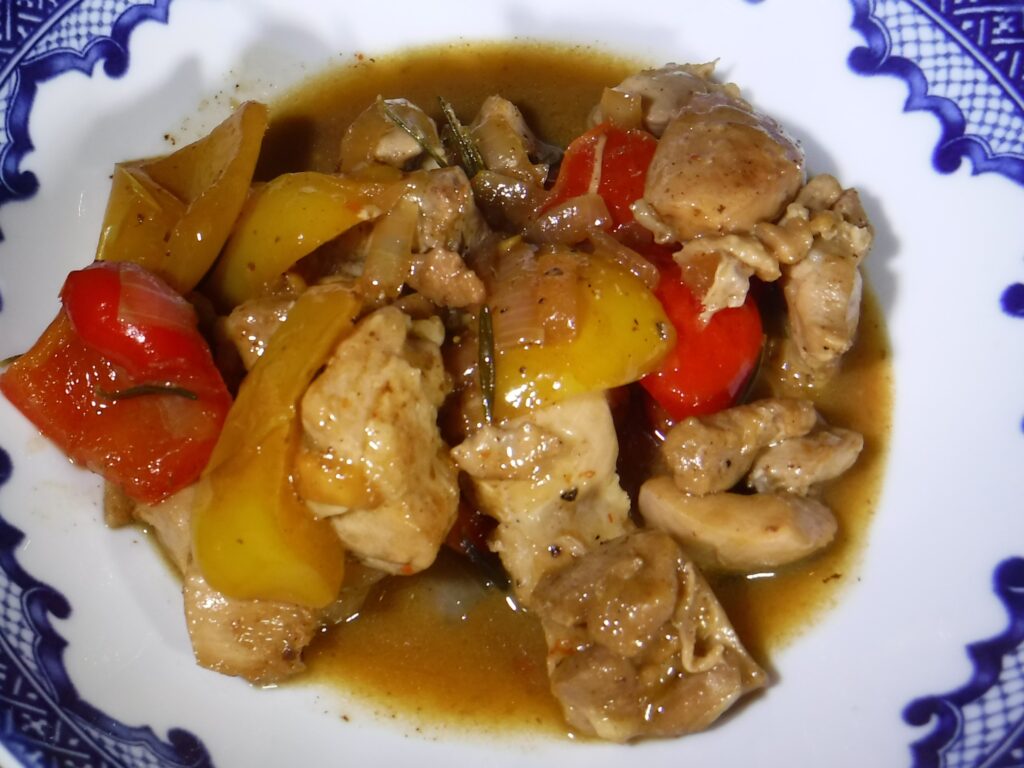 This is a Southern Italian chicken dish with peppers, garlic, and vinegar. I served it last night for dinner with a fresh baguette. It made 4 servings and took about 45 minutes to prepare. This is adapted from a recipe in www.cubbyathome.com.
1 medium red bell pepper, cut into 1 inch pieces
1 medium yellow bell pepper, cut into 1 inch pieces
1 onion, sliced
4 cloves garlic, chopped
2 lbs. boneless, skinless chicken thighs, cut into 1 inch pieces
1.5 tsp. kosher salt, divided
4 Tbs. olive oil
½ cup dry white wine
½ cup white wine vinegar
2 sprigs fresh rosemary
¼ tsp. freshly ground pepper
Pat the chicken pieces dry with a paper towel and sprinkle with 1 tsp. of the salt.
Heat the olive oil in a large skillet. Add the garlic and rosemary and cook until fragrant, about a minute. Add half of the chicken pieces. Cook undisturbed for about 4 minutes until brown on the bottom, and then turn over and brown the other side for another 4 minutes. Remove the browned chicken to a plate and brown the rest of the chicken.
Remove the chicken to a plate and add the bell peppers and onion. Cook until the peppers have started to soften, about 3 minutes. Add the chicken back to the pan with their juices, and brown for about 5 minutes, stirring occasionally. Add the wine, stir well, and cook until the wine has nearly evaporated. Add the wine vinegar, stir well, cover and simmer until the chicken is fully tender, about 15 minutes.
Serve with the starch of your choice – potatoes, pasta, rice, or bread.