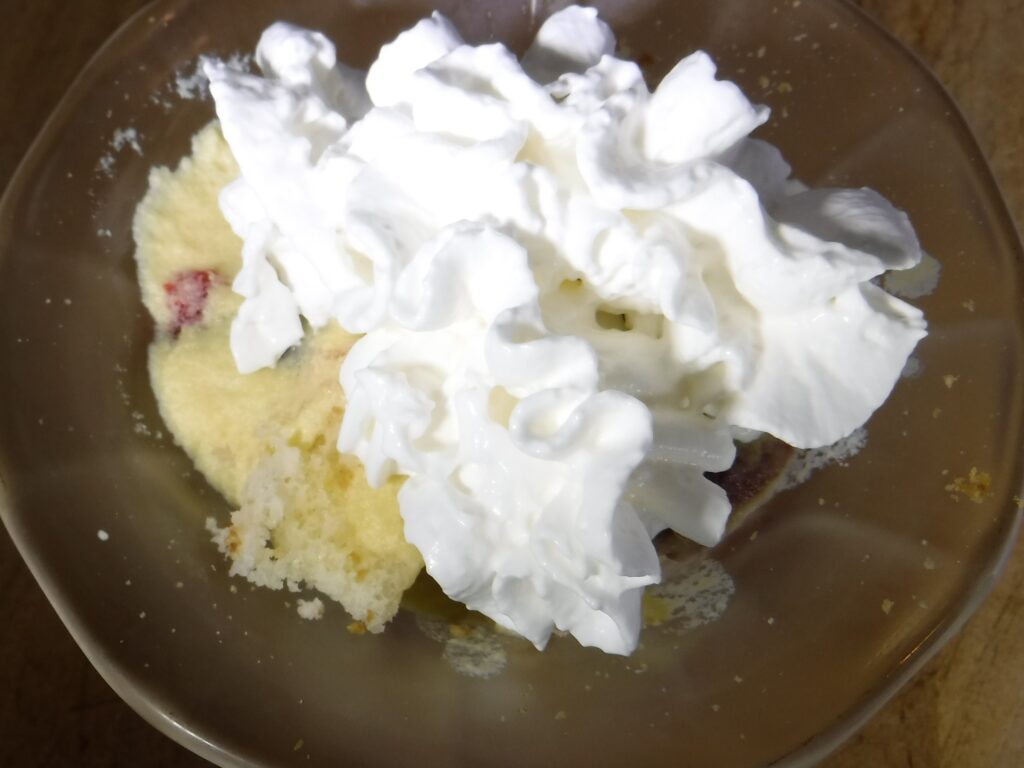 This is a very attractive traditional dessert weather. It can be either made as one big trifle or as individual trifles. This is how I made 6 individual trifles based on a recipe in Cuisine, Texas. I was using up some leftover sponge cake although a pound cake would also be good. This version does not need any seasonal ingredients, like fresh strawberries.
6 slices cake
2 oz. ginger snaps or macaroons, crumbled
6 Tbs. strawberry jam
5 Tbs. medium-sweet sherry (or fruit juice)
8 Maraschino cherries, chopped
1 Tbs. juice from jar of cherries
2 egg yolks
¼ cup sugar
1 cup whole milk
¼ tsp. vanilla
Whipped cream
Cut the cake pieces to fix the serving glass or bowl. Sprinkle the crumbled cookies. Add a Tbs. of strawberry jam. In a small bowl mix together the chopped cherries, sherry, and cherry juice and sprinkle them on top.
In a small saucepan, whisk together the egg yolks and sugar. Heat the milk in a microwave and then whisk into the egg/sugar mixture. Cook over medium heat, whisking frequently, until the mixture is thick enough to coat a spoon. Stir in the vanilla and remove from the heat. Apportion the custard over the serving glasses/bowls.
If serving immediately, top with whipped cream. Otherwise, cover with plastic wrap and put into the refrigerator until you are ready to serve. Then top with whipped cream.
Optionally, adults may enjoy some rum, brandy or whiskey added to their serving of the trifle.