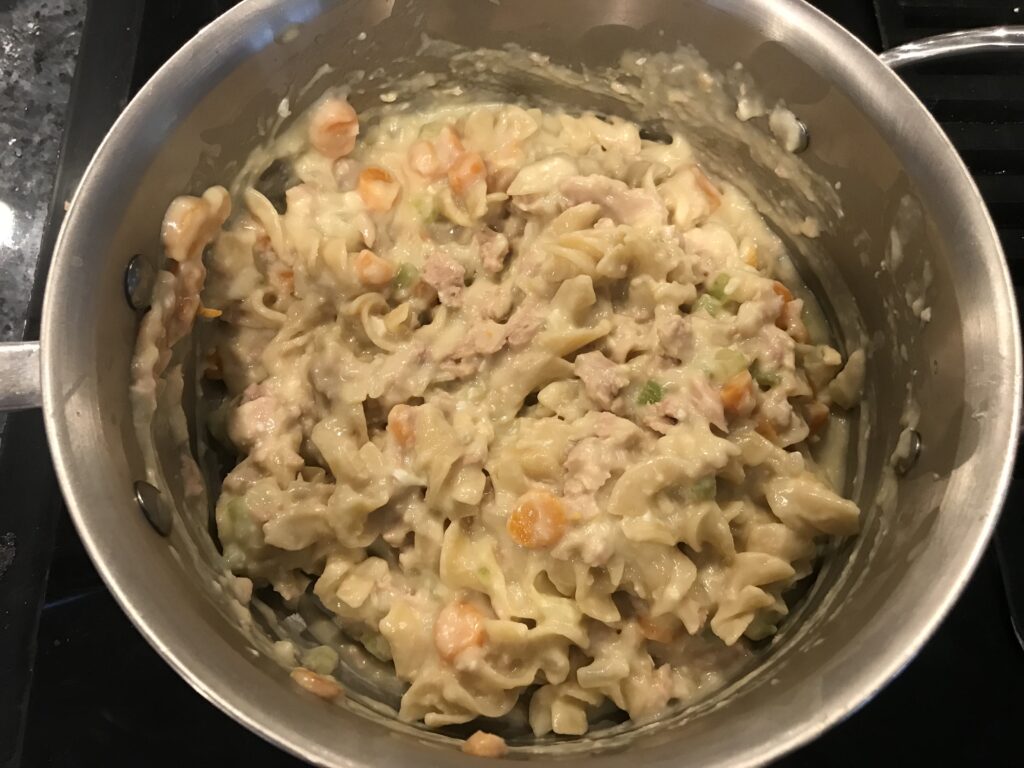 The photo above is from a "proof of concept" of a new recipe for an upcoming Boundary Waters Canoe Area trip. The Boundary Waters has had a fire-ban since July, so I have been looking for some new recipes which can be used with a backpacking stove. This will make 6 servings.
18 oz. tuna in foil pouches (3 oz. per person)
1-1/2 large onion, chopped )
4 cloves garlic, chopped                                  ) prepare at home, cook,
3 stalks celery, chopped                                  ) dehydrate, and
1-1/2 large carrot, peeled and chopped      ) put in a ziplock baggie
1 cup peas )
1 Tbs. Roasted Garlic flavor Better than Bouillon )
¼ cup butter
¼ cup all-purpose flour
6 Tbs. Nido powder
12 oz. egg noodles
3 eggs (powdered equivalent = 6 Tbs. egg powder + 9 Tbs. water)
6 oz. processed cheese (such as Laughing Cow)
Cooking oil
At home, chop the vegetables and saute in a little oil until softened. Stir in the Better than Bouillon. Dehydrate the cooked vegies. When dry, allow them to cool to room temperature, and then put into a zip lock baggie or a vacuum seal bag.
When ready to cook at camp, start by adding two cups of water to the baggie with the milk powder and mix to dissolve.
Melt the butter in a pot and stir in the flour. Cook for a couple of minutes. Stir in the milk and cook until a white sauce is formed.
Add 4 cups of water and the milk and stir until smooth. Add the dehydrated vegies and stir until mixed. Heat to near boiling and then let stand for a few minutes for the vegies to rehydrate.
Add the egg noodles and just enough water so that the noodles can move around easily. Cook, stirring frequently, until the noodles are about done. Add more water as necessary. Mix in the eggs, and cook for another 2 minutes, stirring frequently. Stir in the cheese and stir to dissolve. Mix in the tuna and stir until heated through.