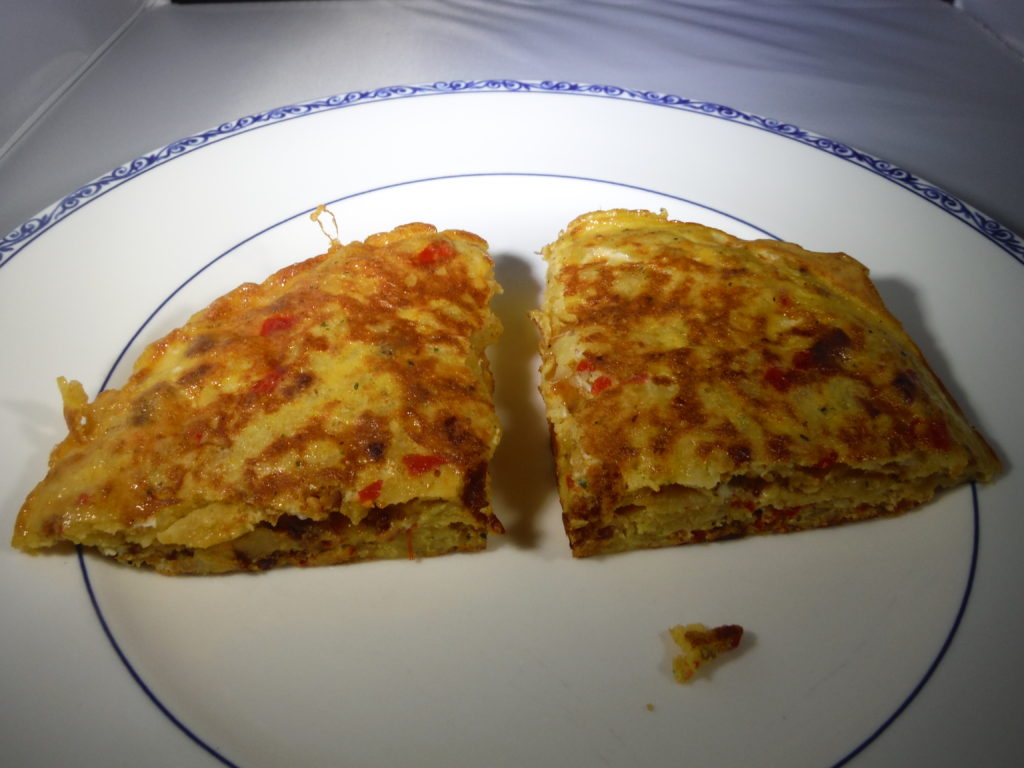 This clever and very easy variation on the classic Spanish tapa is courtesy of celebrity chef Ferran Adria. It uses potato chips instead of starting with fresh potato and slicing and frying it. This substitution makes this a very quick dish, suitable for week night dinners. I have a set of frittata pans, which makes this exceptionally easy. Without them, simply cook the tortilla on one side in an oven-proof frying pan, and finish it under the broiler to cook the other side.
This recipe is sized for two dinner servings.  It can be easily scaled up for a bigger group, or could serve more as a tapa.
4 large eggs
2 oz. of potato chips, crushed
2 Tbs. finely chopped serrano ham, Spanish chorizo, or n'duja
2 Tbs. finely chopped piquillo peppers, or other roasted red peppers
Freshly ground black pepper
1 Tbs. olive oil
Break the eggs and scramble them. Mix half with the crushed potato chips and stir well. Allow to rest 5 minutes to let the chips soften. Add the rest of the egg, the chopped ham and peppers, and black pepper.
Heat a frittata pan to medium-high heat. Add the olive oil to coat. Fry one side until browned, flip and cook the other side. Cut into wedges and serve.