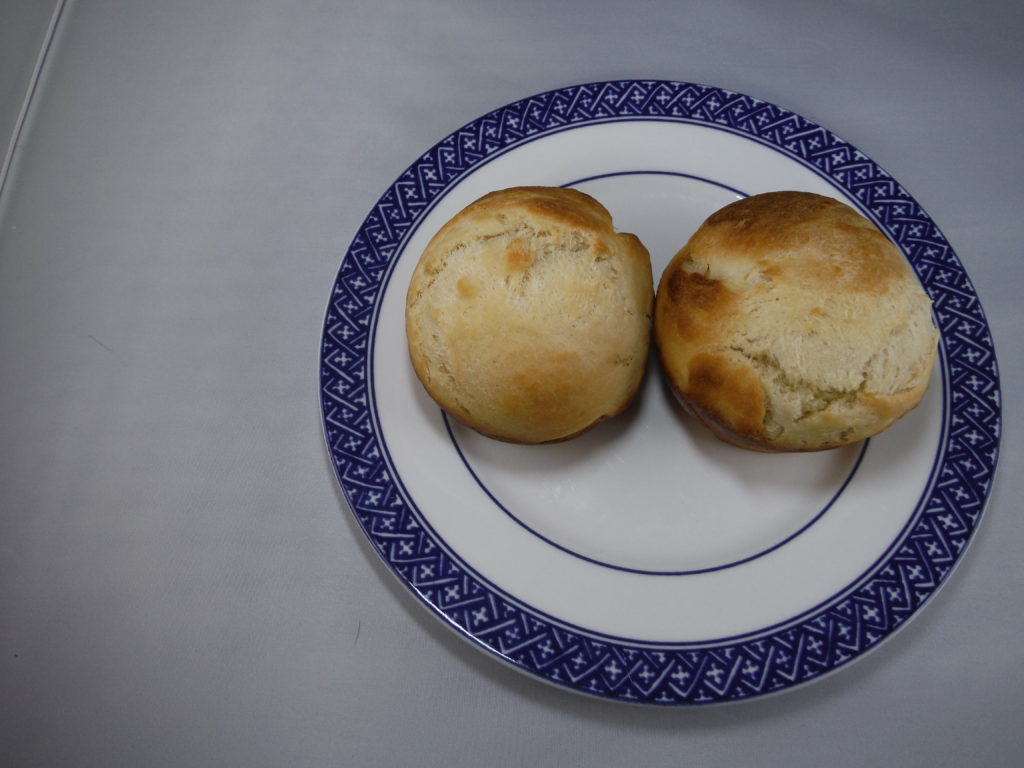 These rolls can be made as a big batch at once, or the dough can be stored in the refrigerator for up to a week so that fresh rolls can be served with dinner multiple times. To make rolls for 2 people, I put 4 balls of the dough in a greased muffin tin. It is key to remember to take the dough balls out of the refrigerator about an hour before baking so that they have an opportunity for a second rise in the pan before baking. This recipe is an adaptation from Natalie Dupree's New Southern Cooking.
1 package (2 tsp.) active dry yeast
¼ cup warm water (~105 degrees)
1 cup warm milk (~105 degrees)
¼ cup butter, melted
¼ cup sugar, divided
1-1/2 tsp. salt
3.5 cups all-purpose flour
Proof the yeast in a small bowl with the warm water, and 1 tsp. of the sugar. Mix together the milk, butter, remaining sugar, and salt in a large mixing bowl. Add in the proofed yeast. Add enough flour to make a soft dough and knead until smooth. (Yesterday it took about 3.5 cups.) Put the dough in a rising container, coat with oil, and allow to rise in a warm spot until the dough has doubled. Punch the dough down, and put it in the refrigerator.
Preheat the oven to 400 degrees.
About an hour before baking, take out the dough and tear it into 2 inch balls. If making just a few rolls, put each ball in a greased muffin tin. If making a whole batch, either put the balls in muffin tins, or put them all in a greased cake pan. Allow the balls to double while in the pan. Bake for about 15 minutes until the rolls are golden on the top and are cooked through. Allow to cool for a few minutes and then serve.
Note – For longer term storage, make sure the dough is coated in oil and is in a ziplock baggie with the air pushed out so that the surface of the dough does not dry out.