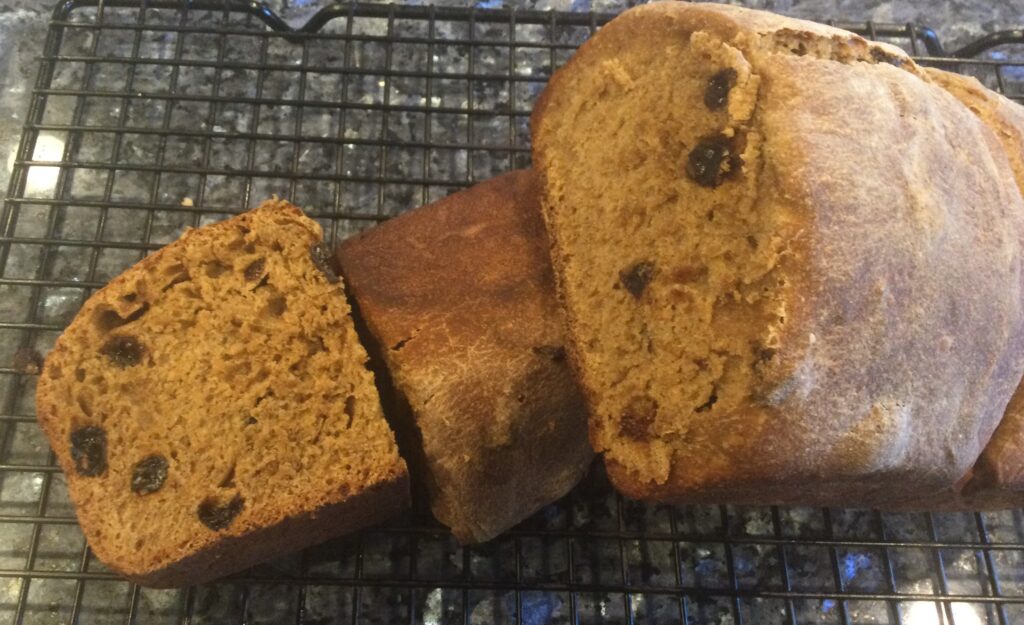 This is a traditional Newfoundland recipe which I found on BonitasKitchen.com. The original recipe was for 3 loaf pans (making 9 mini-loafs), which is generally too much for Carol and me so I made 1 loaf. I made the dough the night before and let it slowly rise overnight in the refrigerator before baking it fresh for breakfast in the morning. Carol liked it plain with butter, and I enjoyed it with butter and orange marmalade.
1 1/2 Tsp yeast
1 Cup warm water, divided
1/2 Tsp White Sugar
2 3/4 Cups (11.9 oz.)White or Whole Wheat flour (I used 3 oz. whole wheat and 8.9 oz white flour)
Pinch Sea salt
1/4 Cup Brown Sugar
1 Tsp cinnamon
1/4 Tsp Ground Cloves
1/2 cup raisins
1 1/2 Tsp melted butter
1/4 Cup molasses
1/4 Tsp vanilla
Cooking spray
In a small bowl mix together the yeast, ½ cup of warm water, and the white sugar. Allow the yeast to proof for 5 minutes.
In a large mixing bowl, mix together the flour, sea salt, brown sugar, cinnamon, cloves, and raisins.
Form a well in the center of the flour mixture and pour in the well the yeast mixture, melted butter, remaining ½ cup of warm water, molasses, and vanilla. With a dough whisk, mix together the wet and dry ingredients to form a rough dough. With your floured hands knead the dough until smooth. Cover and allow to rise for 30 minutes. Briefly knead a second time. Cover and allow to rise for another 30 minutes.
Grease a 9 inch loaf pan. Divide the dough into 3 pieces, and form each piece into a smooth cylinder. Place each piece crossways in the loaf pan with a smooth side up and the seam side down. Spray the top of the dough with cooking spray.
If baking that day, cover and allow to rise for another 30 minutes in the pan before baking in a 350 degree oven. If baking the next morning, cover and place in the refrigerator. Remove from the refrigerator and allow to warm while the oven preheats to 350 degrees.
Bake for 30-40 minutes until cooked through. (190 degrees in the center with an instant read thermometer, or the loaves sound hollow when tapped.)
Allow to cool in the pan for 5 minutes on a rack and then remove the loaves from the pan and allow them to cool on the rack. Do not slice the loaves until they have significantly cooled.