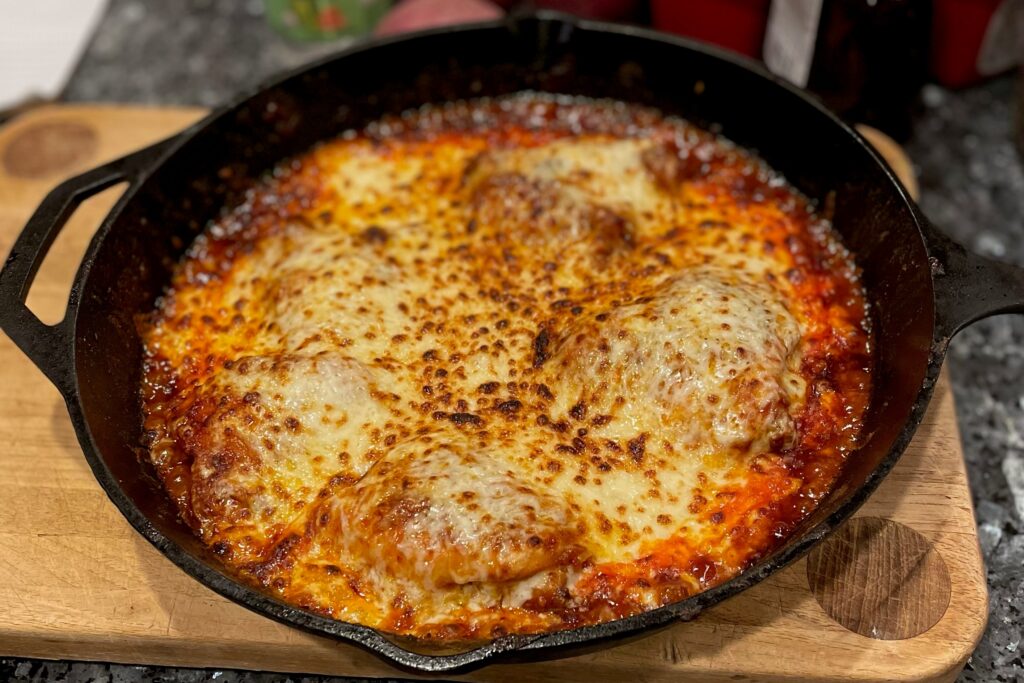 A big change in Korean cooking in recent years is that cheese is now popular, as in this dish which Amanda made for us the day before Thanksgiving. It is adapted from a recipe at maangchi.com and turned out very well. Amanda used bone-in chicken thighs, and I would replace them in the future with boneless thighs cut into 1-inch pieces. With the bone-in thighs this made 5 servings. It would make 6-8 with boneless thighs. The dish is very spicy in the flavorful sense, but is not really chili hot.
2 lbs. boneless chicken thighs, cut into 1-inch cubes
½ cup Korean hot pepper flakes (gochugaru)
2-3 Tbs. Korean hot pepper paste (gochujang)
1 Tbs. soy sauce
3 Tbs. vegetable oil, divided
½ tsp. freshly ground black pepper
1/3 cup rice syrup (or honey, corn syrup, or sugar)
6 large garlic cloves, finely chopped
2 tsp. fresh ginger, finely chopped
1 lb. low moisture mozzarella, cut into small pieces
¼ cup water
1 green onion chopped
Combine the pepper flakes, pepper paste, soy sauce, 2 Tbs. of oil, black pepper, syrup or honey, garlic, and ginger and mix into a paste. Mix the chicken cubes with the paste until each piece is well coated.
Put the remaining Tbs. of oil in a large ovenproof skillet and heat over medium heat. Add the chicken and the water. Bring to a boil and reduce to a simmer. Cover and cook for about 15 minutes, stirring occasionally, and adding additional water if necessary, until the chicken is fully cooked. Preheat the broiler while the chicken cooks.
Add the cut cheese on top of the spicy chicken and put into the oven under the broiler until the cheese is browned and bubbly. Remove from the oven, sprinkle with the green onions, and serve immediately with steamed rice.