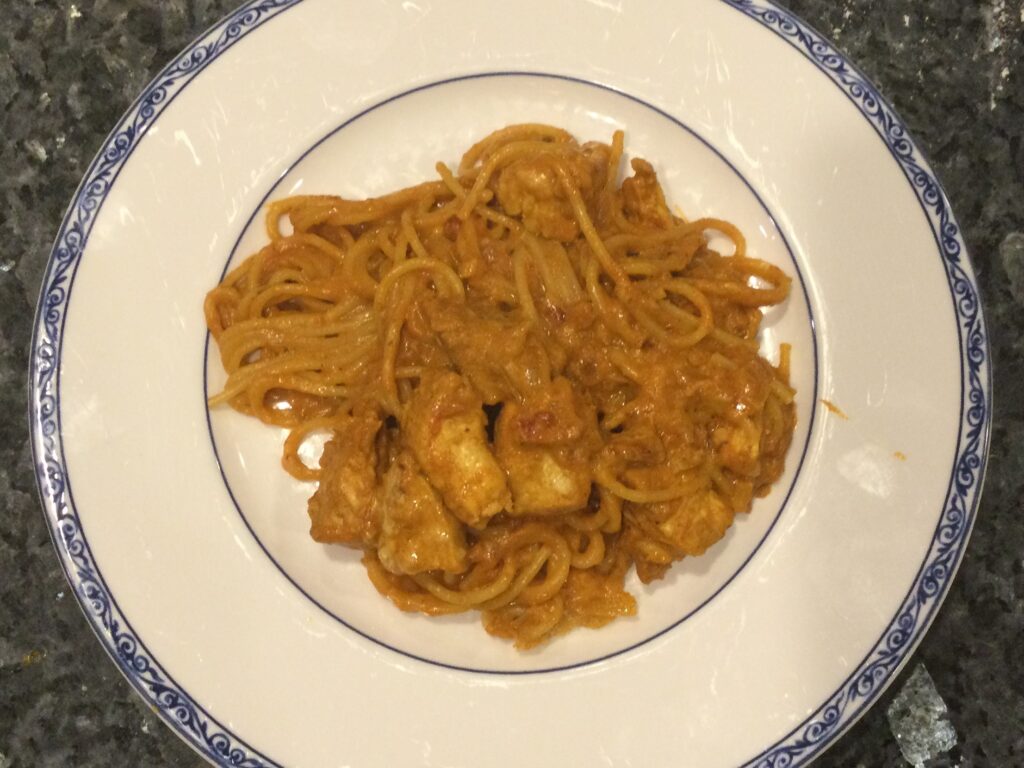 I spotted on the internet an article on chicken tikka alfredo, which was described as a tasty mash-up of Indian and Italian flavors.  That full article and recipe were behind a paywall, so I looked around the internet for similar recipes for ideas, checked out what I actually had on hand in my kitchen, and made a successful dish.  A lot of substitutions would probably work fine as long as the basic idea is followed.  This recipe is sized for 2 servings.
8 oz. chicken breast cut into small cubes
2 Tbs. butter chicken (or chicken tikka) spices
2 Tbs. yogurt
1 small, onion, finely chopped
1 large clove garlic, finely chopped
¼ tsp. curry powder
½ tsp. Kashmiri red chili powder
¼ tsp. ground turmeric
1 Tbs. ghee
4 oz. spaghetti
½ cup pizza sauce
¼ cup heavy cream
1 cup grated parmesan cheese, plus more to serve
Salt and pepper to taste
Marinade the chicken breast in a small baggie with the butter chicken spices and yogurt for up to 8 hours.
Cook the spaghetti in salted water until al dente. Drain but reserve the pasta water.
In a large skillet, melt the ghee over medium heat and sauté the onion and garlic until translucent.  Add the curry powder, chili powder and turmeric and sauté for 30 second.  Add the chicken and marinade and cook, stirring occasionally, until the chicken is mostly done.  Add the pizza sauce, cream, and ½ cup of pasta water, and cook until a sauce is formed, a few minutes.  Add the cooked and drained spaghetti and stir frequently to mix the spaghetti with the sauce.  Add the parmesan and stir some more.  Check the seasoning and serve with extra parmesan.