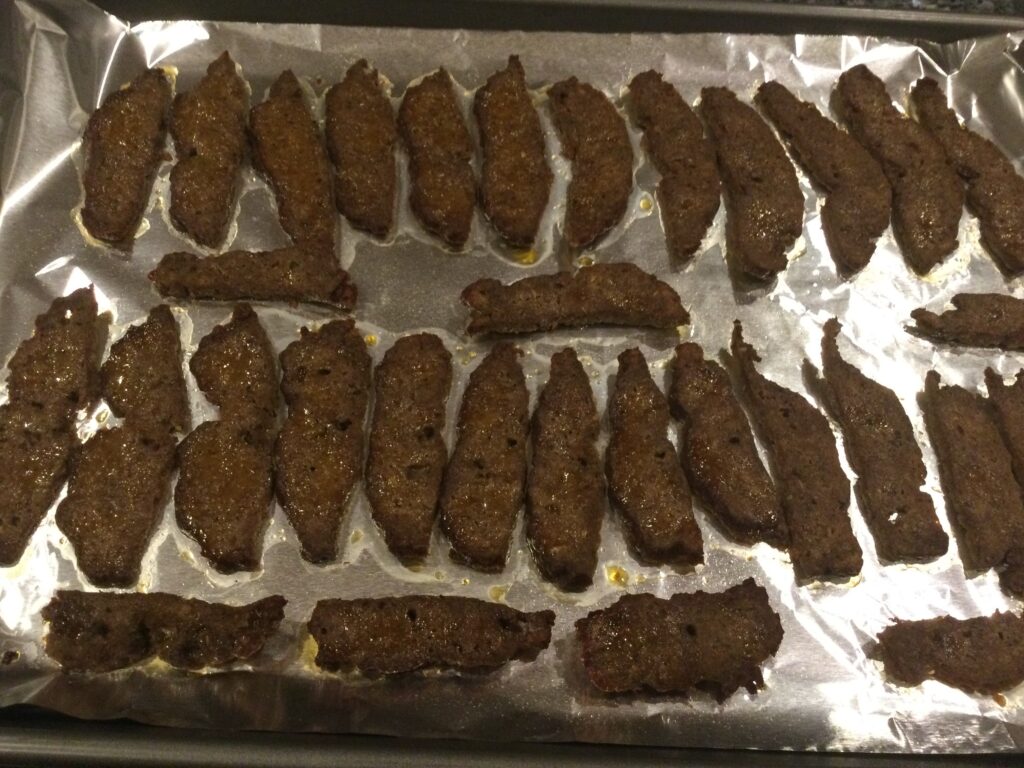 Donair is a Canadian regional variant of gyros or doner kebab. The basic origin story is that a Greek immigrant went to work at a Halifax pizzeria and added gyros to the menu, but they did not sell well. Rather than give up, he started tinkering with the recipe and came up with something that the locals liked, and the rest is history. In 2015, donair was declared the official food of Halifax.
The first change made to the standard gyros was to change the meat from lamb or a lamb/beef mixture to all beef and to change the spicing mix.  We very much liked the result.  The second change was to replace tadziki sauce with a sweet and sour and garlic sauce made from evaporated or condensed milk, sugar (if evaporated milk), white vinegar and garlic powder.  We did not like that sauce much and ate our donairs with tadziki and on Druze Mountain Bread.
In restaurants, Donair usually comes in a giant cylinder, just like gyros, and is cooked the same way with a vertical rotisserie. There are a number of different ways to do it at home, and I copied the method used for Greek-American Gyros, which is to make a meatloaf, cook the meatloaf to 155 degrees, slice it and then broil the individual slices when ready to serve.
Here is the recipe to make 2 lbs. of meat, based on a YouTube video by Chef Mike Mosley.
2 lbs. 80/20 ground beef
2 tsp. ground black pepper
2 tsp. onion powder
2 tsp. garlic powder
2 tsp. salt
2 tsp. paprika
½-1 tsp. cayenne
2 tsp. ground oregano
Mix the spices together in a small bowl and then mix the spices into the ground beef by hand. Refrigerate the meat overnight, and then follow the instructions for Greek-American Gyros