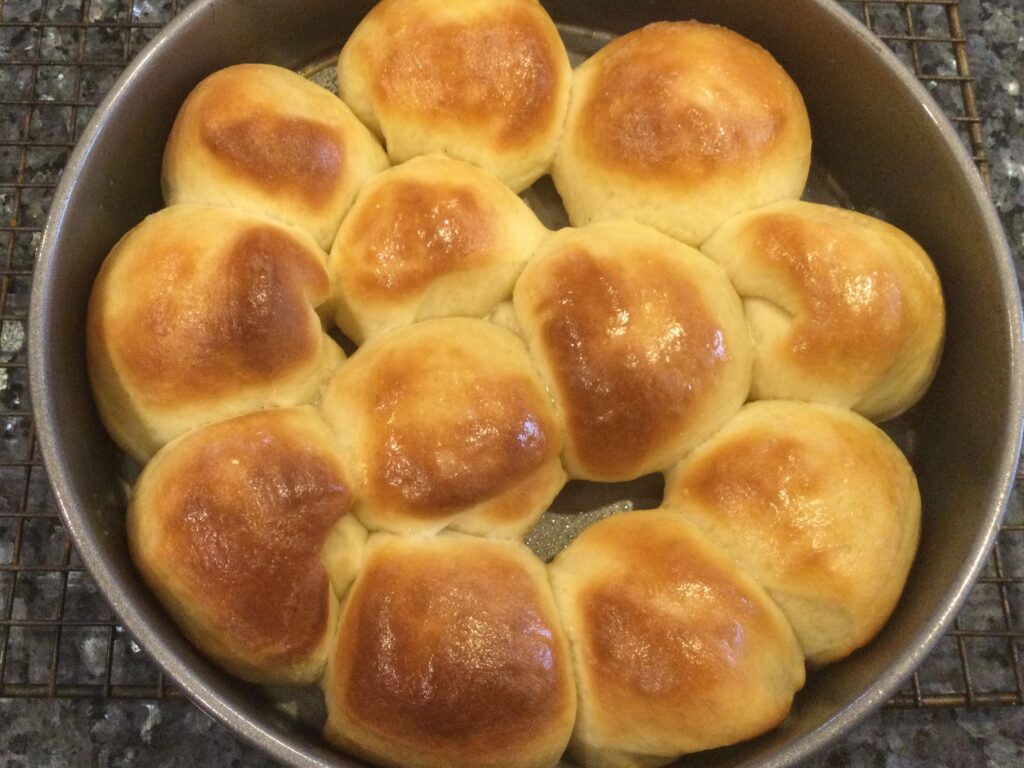 I was asked to bring dinner rolls to Christmas dinner last night, and I adapted a recipe from "Bernard Clayton's Complete Book of Small Breads. They turned out well, with one of my granddaughters particularly expressing how much she liked them. This recipe makes 12 rolls and takes about 3.5 hours.
2.25 tsp. (1 packet) yeast
¼ cup whole milk at room temperature
1 egg at room temperature
2 Tbs. sugar
¼ cup mashed potatoes (I made from instant flakes)
4 Tbs. butter, softened and divided
¼ tsp. salt
8.66 oz (2 cups) all-purpose flour
Proof the yeast in the milk with a little bit of the sugar.
Add to the proofed yeast the rest of the sugar, the egg, mashed potatoes, 3 Tbs. of butter, and the salt. Mix well. Add the flour and mix with a dough wisk. Cover and autolyze for 15 minutes. Knead with a dough hook until a smooth dough is formed, about 4-5 minutes. Put into a doubling container and allow to rise until doubled, about 1.25 hours.
Spray a 9-inch cake pan with cooking spray.
On a floured surface, form the dough into a log and cut into 12 equal pieces. Form each piece into a ball. Space the balls evenly in the cake pan. Cover and allow to rise for 30 minutes.
Preheat the oven to 400 degrees. Bake the rolls until they are a golden brown, about 12-15 minutes. Brush the top of the hot rolls with the remaining Tbs. of butter. Serve warm from the pan or after cooling on a rack.