I have now twice made this easy appetizer for dinner parties with success. It comes from a book by Jacques Pepin, A Grandfather's Lessons: In the Kitchen with Shorey, which contains simple child-friendly recipes which the famous chef made with one of his granddaughters.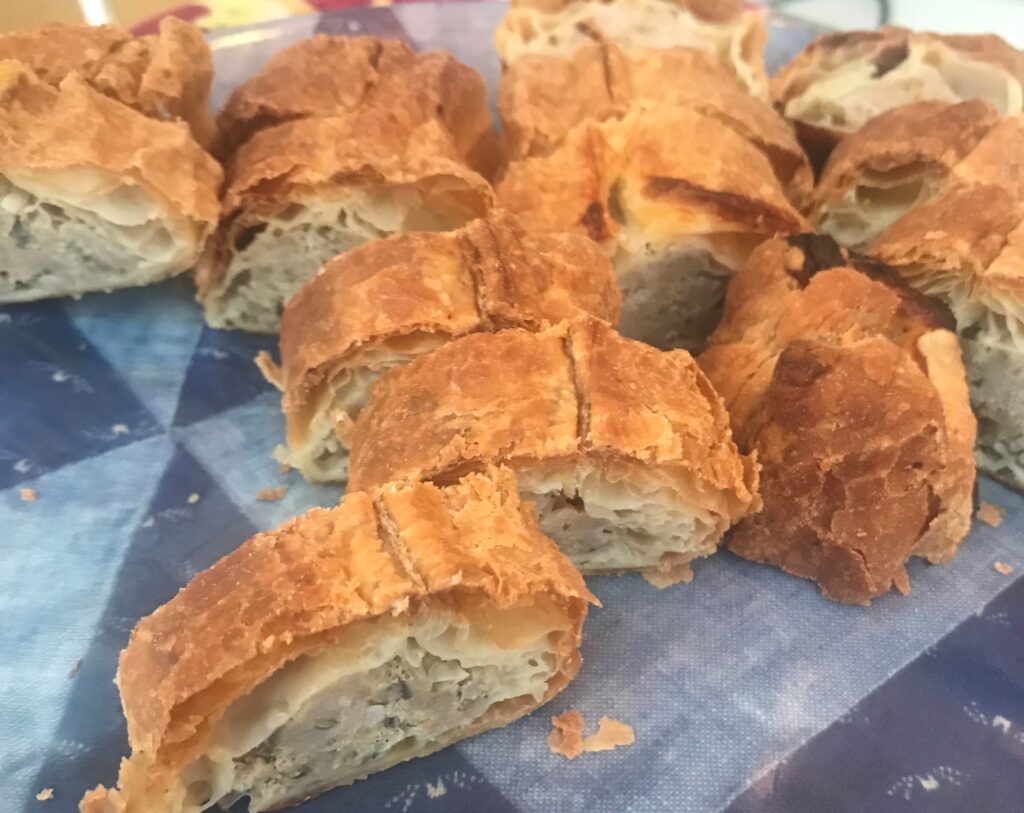 8 oz. sweet Italian sausage
4 oz. hot Italian sausage
1/3 cup coarsely chopped fresh mushrooms (2-3 mushrooms)
3 Tbs. chopped shallot
1 clove garlic, chopped
¼ cup dry white wine
1 egg, beaten
1 sheet frozen puff pastry (about 8 oz., 9 x 9 inch)
Preheat the oven to 425 degrees. Line a cookie sheet with baking parchment.
Remove the skins (if any) from the Italian sausages and put the sausage meat in a medium bowl. Add the mushrooms, shallots, garlic, and wine to the bowl. Mix well and divide into three portions.
On a floured surface, roll out the puff pastry into a 12 x 12 square and cut into three 12 x 4 strips.
Brush the edges of each of the strips with the beaten egg. On each strip, put one portion of the sausage mixture in a line down the center of the strip. Bring the two sides of the strips together on top and press them together. Put the completed roll on the baking parchment in the cookie sheet.
Bake for about 45 minutes until the puff pastry is golden and the filling is cooked through. Allow to cool on a wire rack and then cut into 1 inch pieces for serving. Serve warm or at room temperature.