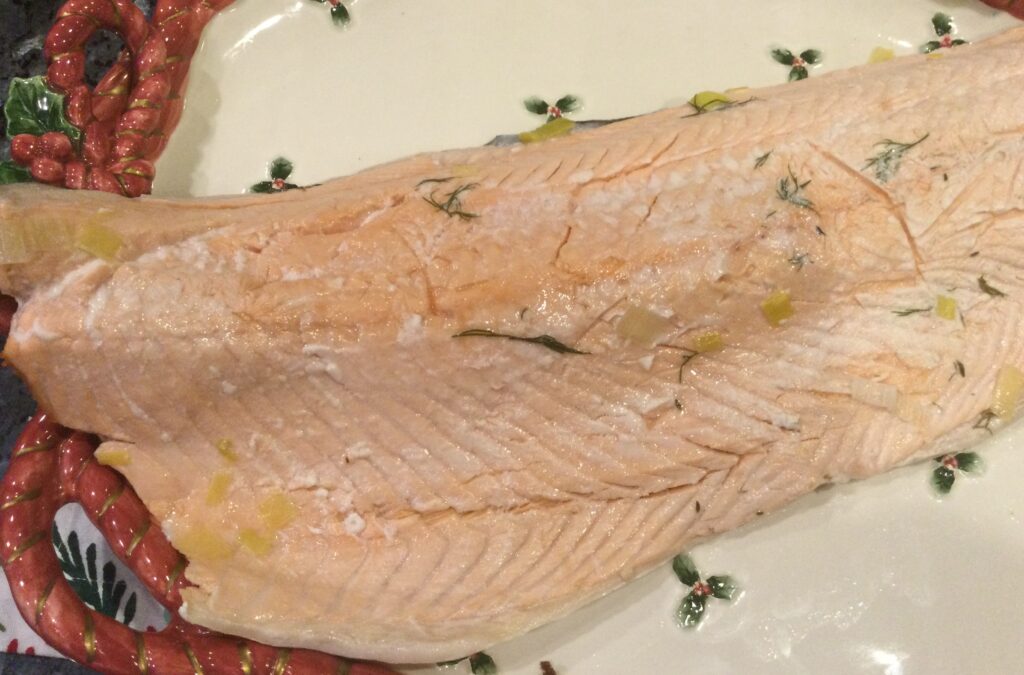 The centerpiece for Christmas Eve dinner this year was a cold poached salmon, based on a recipe in Culinaria: The United States. This is a good "make ahead" dish. I served it with Sweet Mustard Dill Sauce and Two-Minute Aioli.
1 salmon filet (3-4 lbs.)
Court bouillon
2 quarts water
1 leek, trimmed, chopped, and cleaned
1 large carrot, peeled and sliced
3 sprigs parsley
1 bay leaf
2 sprigs thyme
2 tsp. salt
8 peppercorns
Juice of one lemon
In a large fish poacher, put the water and other Court Bouillon ingredients. Bring to a boil and reduce to a simmer. Simmer covered for 30 minutes. Remove the vegetables to a bowl.
Put the salmon filet on top of a piece of butter muslin. Use the edges of the butter muslin to gently lower the salmon into the Court Bouillon and then return the reserved vegetables. Add additional water if necessary to cover the salmon. Bring to a boil and reduce to a simmer and cook the fish for 30 minutes. Allow to cool in the liquid at least 15 minutes. Carefully remove the fish from the pot and brush off any vegetables or herbs. Store wrapped in the refrigerator until ready to serve.