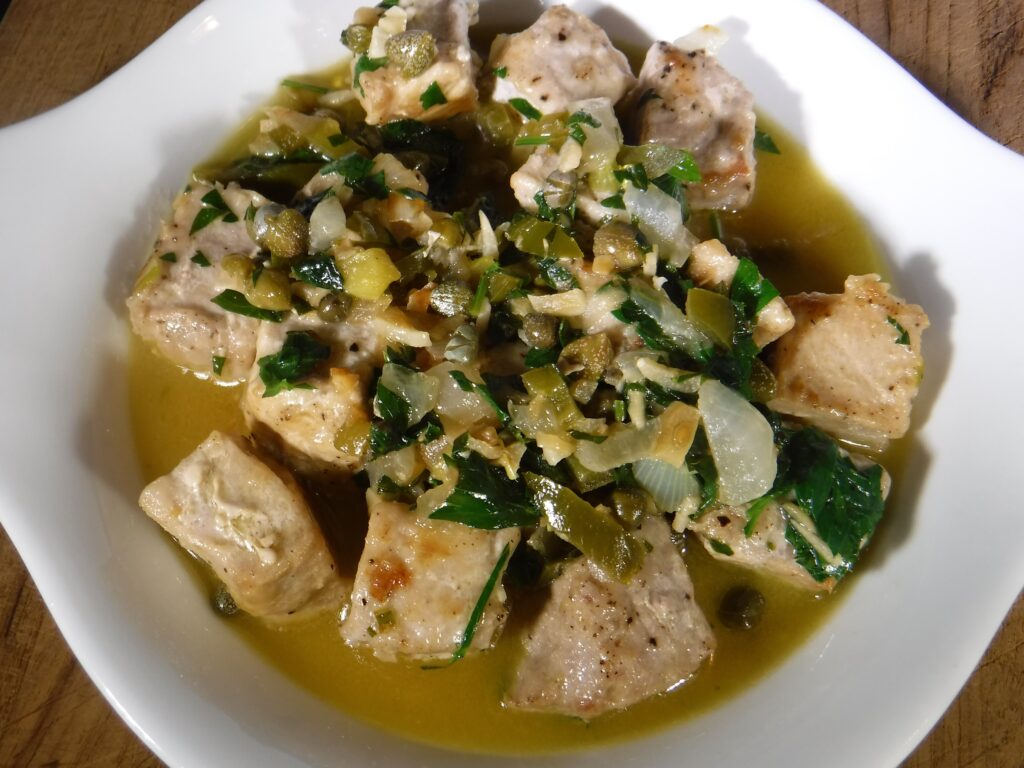 This method of cooking tuna was inspired by the Spanish classic Gambas al Ajillo (Shrimp in Garlic Sauce), with tuna replacing the shrimp. I have now made this a couple of times, and it makes an excellent dish with some good crusty bread, salad and a nice white wine. Quantities are for 2 people. It takes about 15 minutes to make.
8 oz. tuna, cut into 1 inch cubes
3 Tbs. olive oil
Flour
4 cloves garlic, chopped
¼ onion, chopped
¼ cup dry white wine
2 Tbs. capers
2 Tbs. pickled jalapenos, chopped
2 Tbs. parsley, chopped
Salt and pepper
Put the tuna cubes on a small cookie sheet and dust them with flour and black pepper. Cover all the surfaces.
In a large skillet, heat the olive oil over medium heat. Add the garlic and onion and sauté until the onion is softened. Add the tuna cubes and cook until browned on multiple sides. Sprinkle another 1-2 tsp. of flour in the pan and let it color. Add the white wine and deglaze the pan. Add the capers and jalapenos and cook until a pan sauce is formed. Sprinkle on the parsley. Check for seasoning and serve with a crusty bread.