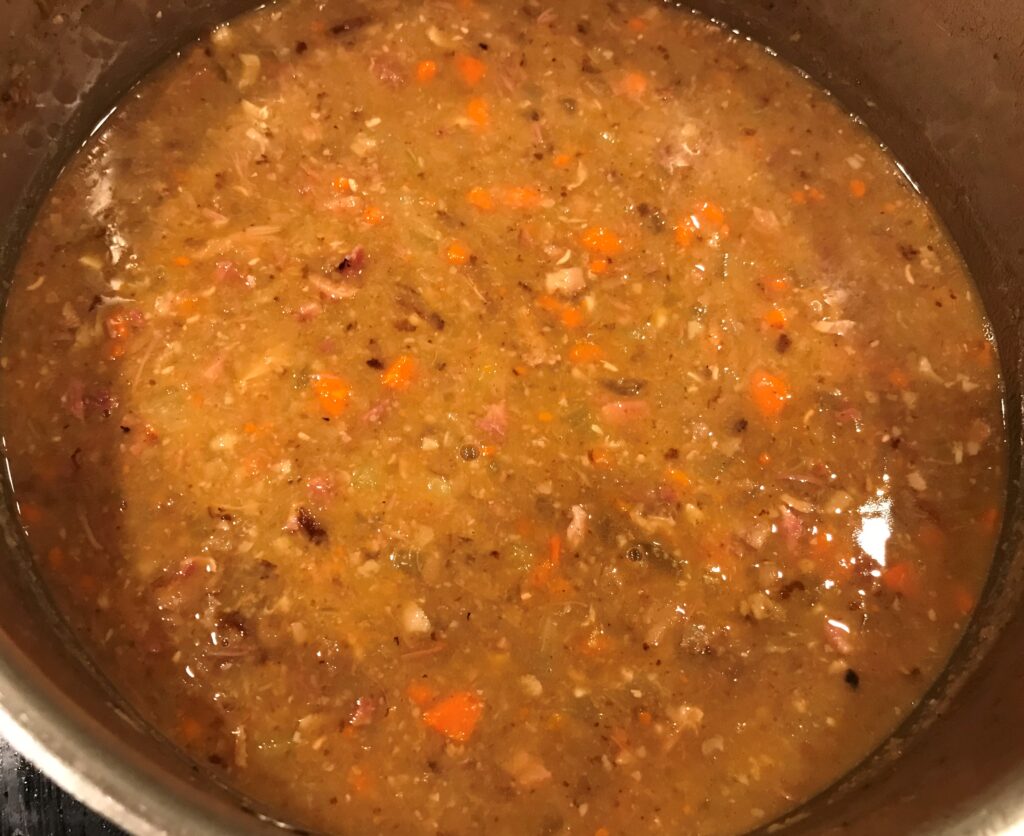 An American classic is the version of bean soup which has been served at the US Senate cafeteria for more than a century.  This version is based on a recipe in Cook's Country Eats Local as adapted to one of the principles of peasant cooking – use what you have!  Thus I used pinto vs. navy beans, which is why the soup has a darker color than usual.  Also, I used the bone and trimmings from a ham which Lidl was practically giving away at $0.85/lb.  for Christmas.   Last, I added some carrots, which are not traditional, but which are always good in soup and which I had on hand.
This is the kind of cooking we did all the time when I was young.  If we had a turkey or ham, its last hurrah was being turned into soup.
1 lb. dried beans (navy or other white beans are traditional – I used pintos)
1 meaty ham bone
1 lb. ham meat, diced
Vegetable oil, as needed
1 large onion, chopped into small pieces
2 celery ribs, chopped into small pieces
2 large carrots, peeled and chopped into small pieces
2 garlic cloves, minced
3 whole cloves
8 oz. russet potatoes, peeled and cut into small dice
1 Tbs. cider vinegar
1 tsp. marmite (optional but good – adds unami)
Salt and pepper to taste
Soak the beans overnight.
In a large pot fry the ham bone and ham meat in a little oil.  Remove the ham meat and put in the refrigerator until later.  Add the onion, celery, and carrots, and saute until the onions are translucent.  Add the garlic, and saute until fragrant, about a minute.  Add 8-10 cups of water and thoroughly deglaze the pan.  Add the beans and marmite (if using).  Bring to a boil, reduce to a simmer, cover, and cook until the beans are tender, which will take 1-2 hours.  Occasionally skim the foam and grease off the top of the soup and stir to prevent any burning on the bottom.   When the beans are tender, add the potato and cook another 10-15 minutes until tender.  Remove the ham bone and cut off any usable meat. Remove some of the beans and potato with a slotted spoon to a wide bowl and mash with a potato masher and return the mashed beans to the pot.  Add the cooked ham from the bone and from the refrigerator and cider vinegar.  Heat through and test for seasoning.