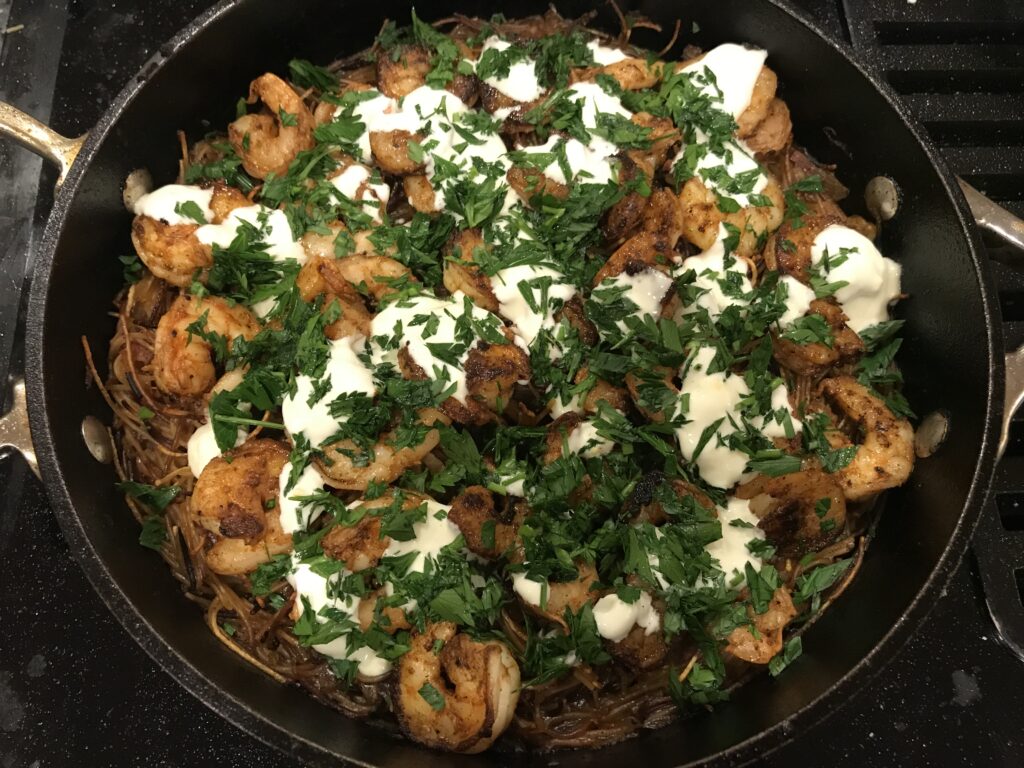 This Catalan dish is like a simplified and quicker paella in which pieces of thin broken pasta take the place of rice. This version is adapted from an article in Milk Street Magazine and will make 4 servings in about 35 minutes. Thus this could be a weeknight dinner. It requires a 12 inch skillet which can be put in the oven. A key part of this recipe which is unusual is toasting the pasta.
½ cup mayonnaise
1 tsp. grated lemon zest
2 Tbs. lemon juice
3 medium garlic cloves, divided
1 lb. shrimp, peeled and deveined
2 tsp. smoked paprika, divided
Kosher salt and black pepper
3 Tbs. extra virgin olive oil, divided
6 oz. angel hair (capellini) pasta, broken into 1 inch lengths
1 small onion, finely chopped
1 plum tomato, chopped
2 cups low sodium chicken broth
Pinch saffron
¼ cup fresh parsley, chopped
Preheat the oven broiler with the rack about 6 inches from the heating element.
Combine the mayonnaise, lemon zest lemon juice, and 1 pureed garlic clove in a small bowl.
Combine the shrimp, 1 tsp. of smoked paprika, 3.4 tsp. kosher salt, and ¼ tsp. black pepper in a bowl. Toss to coat the shrimp well.
In a small bowl, combine the onion, 1 tsp. of smoked paprika, and ½ tsp. kosher salt.
In another small bowl, combine the chopped tomato and 2 thinly sliced cloves of garlic.
Heat 1 Tbs. of oil in the skillet over medium heat. When hot, add the pasta, and saute it for a few minutes, stirring frequently, until golden brown. Put the toasted pasta in a bowl and wipe out the skillet.
Heat 1 Tbs. of oil in the skillet over medium heat. Add the shrimp in a single layer. Cook without stirring for 1-2 minutes until golden brown. Stir to flip the shrimp, and cook another 30 seconds until opaque. Put the shrimp in a bowl and cover it to keep them warm.
Add the last Tbs. of oil to the skillet. When hot, add the onion and cook until the onion is translucent. Add the tomato and garlic and cook until fragrant, about 30 seconds. Add the toasted pasta, the broth and saffron. Bring to a boil and reduce to medium, stirring occasionally, until the liquid is mostly absorbed by the pasta, about 3-5 minutes.
Put the skillet with the pasta in the oven under the broiler, and broil until the surface is crisped and starting to brown, about 3-5 minutes. Remove the pan from the oven. Top the pasta with the shrimp and their juices. Put spoonfulls of the lemon mayonnaise over the shrimp (you may not use it all) and sprinkle with the parsley. Serve at once.