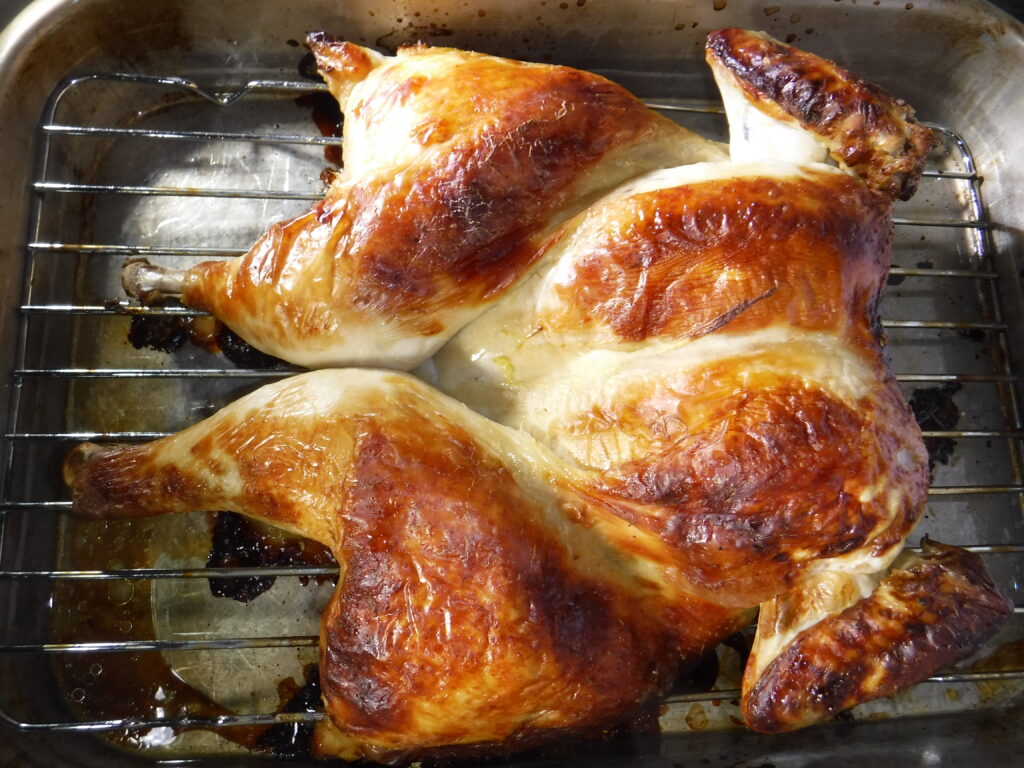 Before there was Buttermilk-Brined Roast Turkey, there was the same idea with chicken, as introduced by Samin Nosrat in her book Salt Fat Acid Heat.  This was easy to do, and like the turkey, was very good – moist and flavorful.  A key point is always to avoid overcooking poultry.  I used a temperature probe in the breast of the chicken and roasted it to 155 degrees.  Like the turkey, I spatchcocked the chicken, which helps it cook faster and more evenly between the legs and breast.
Whole chicken, spatchcocked (I used a 3.5 lb. chicken)
2 cups buttermilk
2 Tbs. kosher salt
The day before, put the buttermilk and kosher salt in a gallon ziplock baggie. Squish the bag to dissolve the salt. Add the spatchcocked chichen and press out all the air and seal the bag. Put the bag in an 7 x 11 baking dish (in case of leaks) and let it marinade for 24 hours in a refrigerator. Flip the bag periodically to ensure that all the chicken is in the marinade.
An hour before roasting, remove the chicken from the refrigerator and scrap off the buttermilk with a spatula, and pat it dry with paper towels. Position it skin side up on a rack in a 9 x 13 rimmed baking dish. A half hour before roasting preheat the oven to 425 degrees. Put a temperature probe in the breast. Roast the chicken at 425 degrees for 20 minutes. Reduce the temperature to 400 degrees and keep roasting until the breast reaches 155 degrees, which will take another 30 minutes or so. Remove the chicken from the oven and tent it with aluminum foil for 10 minutes before carving and serving.