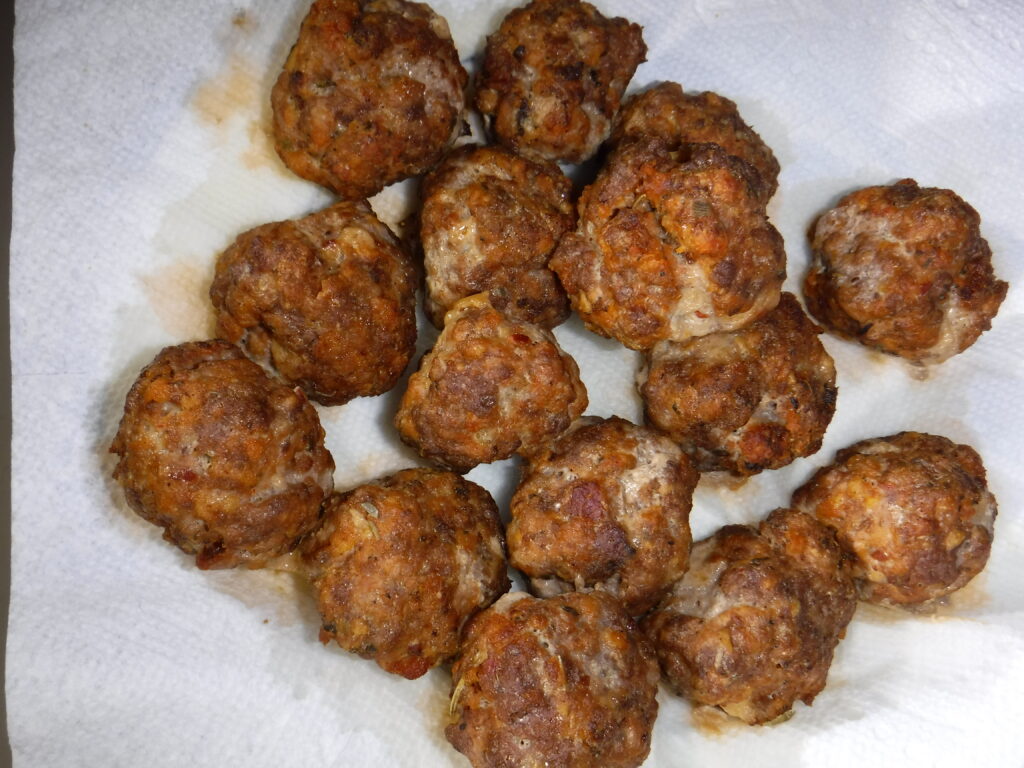 After Thanksgiving, a common task is to find good uses for the leftovers. One of our standards is Leftover Thanksgiving Turkey Gumbo which I am making later today for dinner. I recently spotted an article in www.thekitchn.com about using leftover bread stuffing in Italian meatballs. This made good sense since what is stuffing but seasoned and herbed bread cubes, and bread crumbs are a standard ingredient in meatballs. I was able to use up most of our leftover stuffing and produced about 30 tasty meatballs, half of which we ate last night with red sauce and spaghetti. This will make about 8 servings.
2 cups leftover bread stuffing
2 oz. (1.2 cup) finely grated Parmesan cheese
¼ cup tomato paste
2 large eggs
1 Tbs. Italian seasoning
1 tsp. garlic powder
2 pinches red pepper flakes
1 lb. ground beef
1 lb. ground pork
Salt to taste
Jarred marinara sauce
¼ cup chopped fresh basil
Preheat the oven to 400 degrees.
In a food processor, pulse the bread stuffing until the pieces are no larger than a pea.
In a large bowl, mix together the tomato paste, eggs, Italian seasoning, garlic powder and red pepper flakes. Mix in the bread crumbs. Last mix in the beef and pork. Do not overmix since that will create tough meatballs. Form the meat mixture into balls and spread them out on a rimmed cookie sheet. I made 30 balls out of the mixture. Roast until browned, about 15 minutes. I used half of the meatballs for dinner and froze the other half.
Finish the meatballs in a Dutch oven over medium-low heat with some jarred marinara sauce and the chopped fresh basil. Cook for at least 15 minutes (longer will be fine) and then serve with pasts.